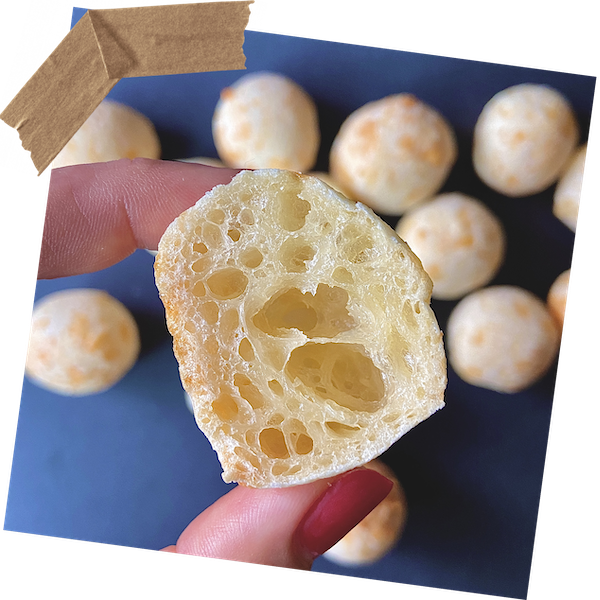 PÃO DE QUEIJO
I was lucky enough to get a masterclass from our Brazilian friend JP, now I can share with you the most authentic and delicious Brazilian cheese bread recipe .
Brazilian cheese bread is crunchy on the outside, soft and chewy inside with aromatic cheesy flavor. Great thing about it, is that you can choose any cheese you love. I've tried cheddar, Asiago and Parmesan, and my family loved the cheese balls with Parmesan the most. But you can be creative and play with any type of cheese you like. This Brazilian cheese bread recipe is super easy to make and yields about 24 small balls.
You can double the ingredients and freeze them for later.
Ingredients
Dough
50g milk
50g water
50g unsalted butter
3g salt
165g tapioca flour
1 large egg
100 g grated Parmesan, or Cheddar or any other cheese.
Directions
Preheat oven to 350F.
Add the tapioca flour and salt to a bowl.
Add the milk, water and butter to a small saucepan and bring to a boil.
When liquid will start to boil, remove the pan from heat, and immediately pour the hot liquid into the tapioca mixture.
Using spoon stir to combine – the mixture will look lumpy.
Let the mixture to cool down for 2-3 min, then add an egg and mix with the spoon until homogeneous mass.
Add cheese and stir it well into the batter.
Oil your hands, then scoop a full teaspoon size portions, roll them into balls, and place them in a baking sheet, covered with parchment paper or silicone mat ,1-2 inches apart.
Bake until golden brown, approximately 25-35 minutes.
Note: if you are planning to freeze some of your cheese balls, place them on a baking sheet covered with parchment paper, transfer the baking sheet in the freezer for 15 minutes for them to set. When they are set, and can keep their shape, you can put them into an airtight bag and freeze for 2-3 months.
Summary
Recipe Name
Brazilian Cheese Bread (PÃO DE QUEIJO)
Author Name
Published On
Preparation Time
Cook Time
Total Time
Average Rating
Based on 4 Review(s)