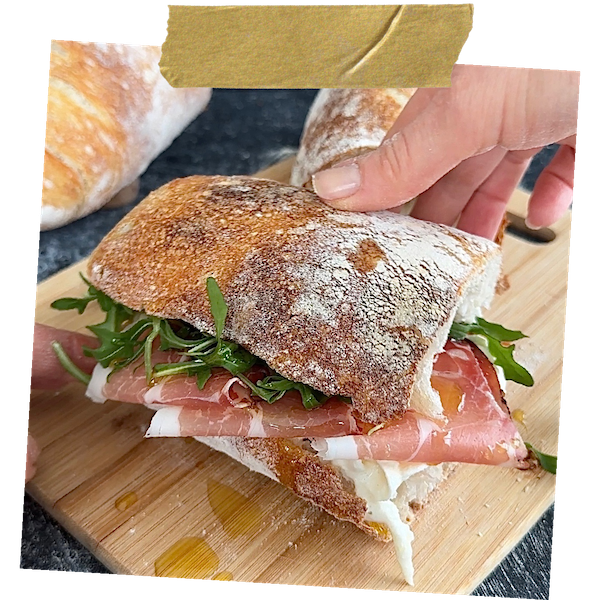 Earlier I shared a couple of recipes of sourdough ciabatta, but today, I would like to introduce to you a very simple recipe of ciabatta made with yeast.
It is a one day preparation ciabatta, with one simple step of making biga (preferment) a night before.
If you are ready, let's go.
| | |
| --- | --- |
| Ready in: 4-5 hours | Serves: 8-10 people |
| Yield: 2 x 450g ciabattas | Units: US, E |
Ingredients
Biga (preferment)
Main Dough
240g biga (all)
315g bread flour
270g water +20g extra water
10g salt
Directions
Night before:
Biga preparation step
5 pm in container add yeast to water, add flour, whisk all together, form as uneven ball, cover the lid, let the biga ferment at room temp till next morning.
Next morning:
Ciabatta dough preparation steps
9 am By this time biga has to double or more in volume and have a loose structure.
Mix water, all biga, dry instant yeast, salt and all flour. Mix on low speed of your mixing machine for 2-3 minutes, or KitchenAid on speed 3 for 5-6 minutes until well incorporated. Add extra water little by little. The process of adding extra water is called bassinage, it helps to tighten up gluten. The dough has to come up together and become smooth.
Oil the container with olive oil, transfer the dough into the square or rectangular container, close the lid.
Leave to rest for 30 minutes at 78-82F /26-28C.
9:30 am wet your hands and perform 1st stretch and fold.
10 am 2nd stretch and fold.
10:30 am 3rd stretch and fold.
11 am 4th stretch and fold and let the dough rest for 30-45 min.
By this time dough has to increase by 100% in volume (double).
Note: if the volume of the dough didn't reach 100% mark, let the dough ferment longer.
Ciabatta preshaping and shaping steps
Generously sprinkle with flour table and dough, turn container on the floured surface.
Fold the dough in half (flourless parts one to each other).
Using the scraper divide the dough in 2 equal parts. Sprinkle more flour o top and all around ciabattas.
Now transfer each shaped dough onto a proofing couche. Cover ciabattas with kitchen towel. Let them proof for 30min to 1 hour.
Perform poke test to check the readiness. Give the dough a gentle but assertive poke. If the dough springs back right away, let it rise for a few more minutes. If the dough springs back slowly, like it's waking up from a long nap, and your poke leaves a small indentation, it's ready to go.
During proofing time start to preheat oven 500F with baking stone inside and iron tray on the bottom rack for 1 hour.
When the oven is hot and ciabattas are proofed enough, flip them over on a parchment paper( bottom side should be on the top, and top part should be on the bottom.
Prepare 10 ice cubes.
Act fast, open the oven, transfer ciabattas on to the baking stone, dump the ice cubes into the tray and put it on the bottom rack, close the oven door.
Bake for 10 minutes.
Lower the temperature to 475F, open the oven door, remove the tray with excess water. Bake for 15 more minutes.
Let your ciabattas cool down.
And enjoy!
Summary
Recipe Name
Author Name
Published On
Preparation Time
Cook Time
Total Time
Average Rating
Based on 36 Review(s)