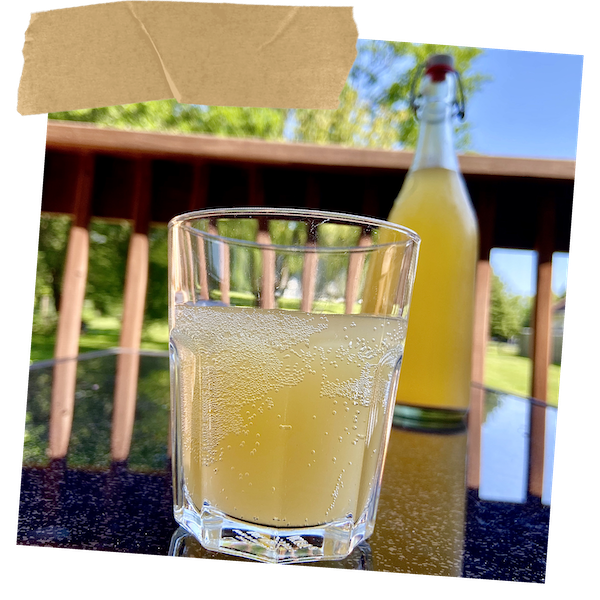 Kvass is sweet carbonated drink, product of wild fermentation.
While my peers in the United States enjoyed the taste of Coca-Cola and Pepsi, children born in the Soviet Union were happy drinking kvass.
And now as a parent I try to instill healthy habits in my children who were born in the United States and serve them healthy homemade kvass using an easy recipe that I am about to share with you.
But let's first understand why kvass is good for you.
Kvass is a traditional fermented beverage having a similar taste to beer. Much like kombucha because of its fermentation process and probiotic benefits, it is commonly made from sourdough starter. You can learn how to make starter from scratch here.
Kvass improves digestion and boosts metabolism. It helps prevent infections and keep the heart and circulatory system healthy. Kvass simply makes one feel better as it contains lots of vitamins, free amino acids, micro elements and lactic acid.
Nutrition Facts
Kvass offers a wide range of nutrients, including vitamin B12 and the mineral manganese. Here is the nutritional background based on a 10-ounce serving of kvass made with sourdough. Note that it may vary based on the ingredients, as the beet variety also offers a host of other critical nutrients.
76 calories
0.6 grams fat
114 milligrams sodium
1.1 grams fiber
1.6 grams protein
16 grams carbohydrate
0.72 grams of vitamin B12 (12 percent DV)
5.2 micrograms selenium (7.4 percent DV)
0.14 grams manganese (7.2 percent DV)
0.08 grams thiamine (5.0 percent DV)
14.4 micrograms folate (3.6 percent DV)
0.06 grams riboflavin/vitamin B2 (3.5 percent DV)
0.64 grams niacin (3.2 percent DV)
0.5 grams iron (2.8 percent DV)
0.05 grams copper (2.4 percent DV)
23 grams phosphorus (2.3 percent DV)
8.8 grams magnesium (2.2 percent DV)
Since kvass is considered one of the great probiotic foods, there are many benefits such as improving intestinal tract health and enhancing the immune system, which makes nutrients more available to the body. [draxe.com]
After we've learned about the health benefits of kvass let's dive in to the recipe.
Ingredients
For starter (levain)
For kvass
3 liters boiling water
100g brown sugar
50g rye sourdough starter
Directions
Night before:
Set up rye starter and let it ferment for 10-12 hours
Next day:
Add sugar and malt, mix well until dissolved
Let it cool down to 36-40C/ 97-104F.
Add starter and mix very well.
Pour into a big jar, cover tight with lid, place in a dark warm place for 12 hours.
In 12 hours you should see activity and air bubbles movements in the liquid.
With help of watering can pour liquid into 2-3 glass or plastic bottles (try to keep as much of the leftover flour inside the jar as possible) screw the lids tight.
Let it ferment for 8-12 hours at a room temperature.
Then transfer to the fridge.
Let it cool down
Please note, the salvaged flour leftovers could stay on the counter for up to 1 week. Before using it in the next batch, add 1 tablespoon of rye flour to it. This will become the starter replacement for your next batch of kvass.
Hope you find this recipe helpful and enjoy kvass as much as my family does 🙌🙌🙌