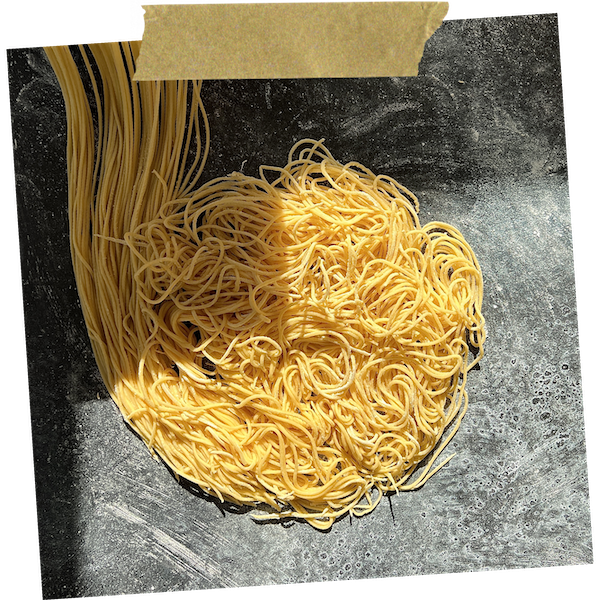 The time has come and my husband who loves pasta more than me finally bought a pasta maker!
And of course, I wanted to sneak in some of my sourdough discard.
Pasta came out so delicious, I am making another batch 😋
Ingredients
125g all purpose flour
125g semolina flour
6 egg yolks (or 2 large eggs )
60g sourdough discard
1/2 tsp of olive oil
Directions
Sift the flour on the clean work surface, make a hollow, add the yolks( or eggs) sourdough discard.
Use a fork to whisk yolks and discard into a flour.
Sprinkle olive oil on top of the mixture and with help of your hands start working with the dough.
The dough will feel dry at the beginning but in about of 10-12 min of kneading, it will come up all together.
If the dough will remain too stiff add little more of yolk or egg white, if it is too soft, add little more flour.
Try to round the dough into a ball. Wrap it in plastic wrap and let rest for 30 min.
Divide the dough in 4-6 pieces. Round each piece, flatten it with rolling pin.
Run the dough through pasta roller. Start with number 1 or 2.
Run the dough through pasta roller again, but at this time use number 4 or 5 or even 6 if you would like your pasta to be thinner.
Now run the pasta sheet through pasta cutter.
Sprinkle cut pasta with some flour to prevent sticking.
Cook pasta in boiling water for 2-3 minutes until al dente.
Enjoy!
Summary
Recipe Name
Homemade Pasta with Sourdough Discard
Author Name
Published On
Average Rating
Based on 9 Review(s)