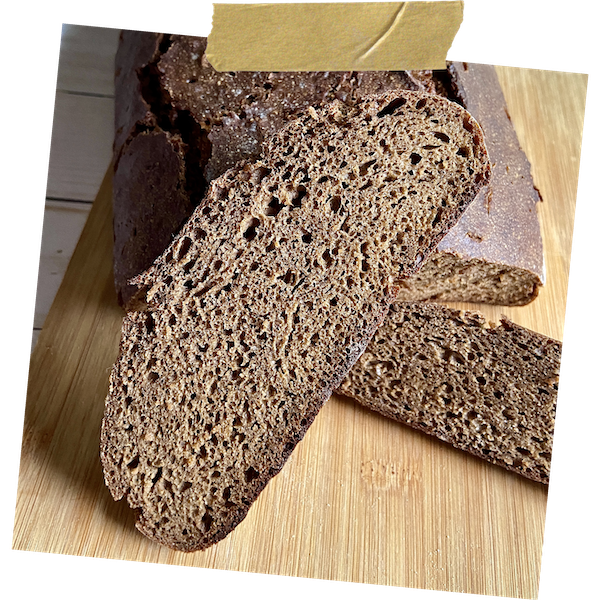 We just got back from Ukraine, where our families live. And wow, bread over there is absolutely amazing. Feeling inspired by all the varieties of rye bread, first thing I wanted to bake when we got back home was this delicious, full of flavor malted rye sourdough bread. It tastes so good!
I promise you'll love it.
Rye sourdough starter
10g ripe sourdough starter
70g water
70g rye flour
Soaker
Main batch
140g rye sourdough starter
Soaker
100g rye flour 
290g all purpose flour (or I like to substitute it with 145 whole wheat flour + 145g AP flour)
220g water 
9g salt 
18g sugar 
Directions
Day 1
Starter
10 pm add starter to the water and whisk together, add flour, mix well, cover loosely, let it sit at room temperature 74-78F until in about 8-10 hours starter reaches its peak (doubles or triples in volume). You can learn how to make starter from scratch here.
Soaker
10 pm add hot boiling water to the flour and malt and whisk together. You should get thick paste. If feel there is a need for more water, go for it.
Cover it with plastic and keep it for the night in the oven with light on. Perfect temperature 80-90F.
The reason for keeping soaker in the warm environment is to help accumulate simple sugars that have a positive effect on the moisture of the crumb, give the crust a rich color, and also reduce the rate of bread staling.
Day 2
Sponge 
8 am mix rye sourdough starter with all the soaker. It might take some time, because the soaker might get harder overnight. Mix it until everything is well incorporated.
Cover, let it ferment at 74-80F for 3 hours until it becomes puffy and gets bigger.
Main Dough
11 am dissolve sugar and salt in the water.
Add all the sponge and flour, start mixing on low speed for 2-3 minutes.
Increase the speed to medium and continue mixing until the dough comes up together. Make sure the dough doesn't get overheated. Total mixing time is about 15 minutes.
Sometimes it depends on the temperature of the dough, it doesn't want to come up together. Don't worry. Oil your hands oil the bowl, try to round up the dough.
Let it proof for 2-3 hours until doubles in volume.
Keep monitoring the surface of the dough, as soon as it starts to crack on top it means it's time to shape.
Shaping
2 pm generously sprinkle counter top with flour.
Dump the dough on the counter.
Shape as desired. I prefer a round shaped loaf. Pull all edges to the center, flip it over, try to round the dough with your hands.
Transfer the shaped loaf into proofing basket.
Let it proof for 1 hour until it almost doubles in volume.
Meanwhile preheat your oven to 500 F, place a cast iron pan with the lid or a baking stone inside for 45 minutes – 1 hour.
3 pm flip the dough over on a parchment paper. Rye type of bread doesn't require scoring.
Transfer the dough on to the hot cast iron pan, cover with the lid (to create steam for a beautiful and crusty crumb).
Bake at 480F for 10 minutes with the lid on.
Remove the lid, lower the temperature to 400F.
Bake for 30 minutes more minutes until dark brown.
Brush hot loaf with water, to keep the crust soft.
Enjoy!
Summary
Recipe Name
Malted Rye Sourdough Bread
Author Name
Published On
Preparation Time
Cook Time
Total Time
Average Rating
Based on 2 Review(s)