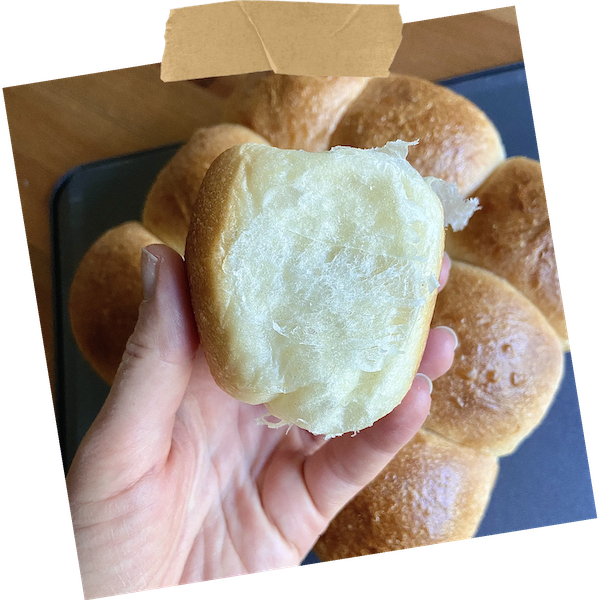 These sweet milk sourdough rolls deserve your attention.
Made with sweet stiff starter, they are soft as silk, pleasantly sweet, and stay fresh for 3+ days.
If you follow the proofing schedule that I recommend, you'll have freshly baked rolls for breakfast 😊
Ready in:
24 hours
Serves:
6-8 people
Yield:
12 x 47g Rolls
Units:
US, EU
Ingredients
Sweet Stiff Sourdough Starter
8 g sourdough starter
30 g water
60 g bread flour
5g sugar
Dough
250 g bread flour (100%)
75 g milk
50 g condensed milk
75 g sweet stiff starter
1 large egg
20 g sugar
50 g soft butter
5 g salt (2%)
0.5 g dry yeast (optional, to reduce sourness)
Directions
Day 1
Starter
10 pm dissolve sugar in the water, add starter and whisk together, add flour, mix well, form a ball, place in jar, cover let sit at room temp 74-78F until it increases in volume in 2 or more times.
Stiff sweet starter will have lower hydration then regular liquid starter and will help us to lower the acidity of final product (learn how to make sourdough starter from scratch here).
Day 2
Dough
8 am in a bowl of stand mixer add milk, condensed milk, an egg, sugar, stiff sourdough starter (75 g) to the flour and let autolyse for 1 hour.
During the autolyse period the flour becomes fully hydrated. This activates gluten development.
9 am mix dough on low speed of your mixing machine for 2-3 minutes, or KitchenAid on speed 3 for 3-4 minutes until well incorporated.
Add salt mix for a couple more minutes. The dough should form a ball.
Add soft butter, increase the speed of mixer, mix for 10 more minutes until the dough is well incorporated and comes up together. You will be able to perform windowpane test.
Cover and let it proof for 3-4 hours at 76-80F/ 24-28C.
During that time perform 2 stretches and folds.
The dough should become slightly puffy.
1 pm transfer the dough to the fridge for cold fermentation for 6-9 hours.
10 pm Remove the dough from the fridge.
Divide on 12 equal pieces (about 47-50g each
Pinch all edges to the bottom of a roll, try to round it tightly.
Transfer the shaped rolls into the square baking pan.
Cover rolls and let them proof overnight for 8 -10 hours 70-74F /20-23C until they double in volume.
Day 3
7 am Preheat the oven to 375F.
Sprinkle some flour on top of rolls or egg wash them.
Bake for 30-35 minutes until golden brown.
Enjoy your sweet milk sourdough rolls 🙌