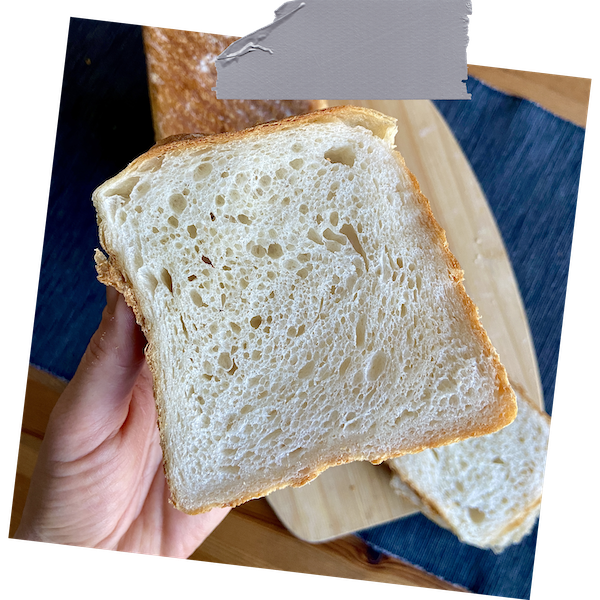 My kids prefer soft white sandwich bread for their school-lunch. And they usually get super excited if the loaf looks like the toast bread sold at the store.
For this particular recipe, I needed to practice a little, before figuring out how much dough to put in my small Pullman loaf pan. The one I use has the following dimensions: 10.5cm x 19.5cm x 10 cm / 8.5X4.75X4.375 in.
Here is the formula which fits this loaf pan exactly.
Ingredients
Sourdough Starter
Dough
360g bread flour (100%)
216g milk (60%)
36g sugar (10%)
54g soft butter (15%)
60g starter (16%)
6g salt (2%)
0.5 g dry yeast (optional, to reduce sourness)
Directions
Day 1
Starter
10 pm add starter to the water and whisk together, add flour, mix well, cover loosely, let it sit at a room temp 74-78F for about 8-10 hours until starter reaches its peak (at least triples in volume).
Day 2
Dough
8 am mix milk, sugar, sourdough starter (60g on its peak, the rest use for future feedings), all the flour, let it autolyse for 1 hour.
During the autolyse process the flour becomes fully hydrated. This activates gluten development.
9 am mix dough on low speed of your mixing machine for 2-3 minutes, or KitchenAid on speed 3 for 3-4 minutes until well incorporated.
Add salt, mix for a couple more minutes. The dough should come up together.
Add soft butter, mix for 10-15 more minutes until the dough is well incorporated and comes up together.
Perform a windowpane test. Wet your hands and stretch the dough. You should be able to stretch it very thin, that's a sign of a well developed gluten, and that your final product will have a soft and light structure.
Cover and let it proof for 3-4 hours at 76-80F / 24-28C.
During that time perform 2 stretches and folds.
The dough should become slightly puffy.
1 pm transfer the dough to the fridge for cold fermentation for 6-8 hours
9 or 10 pm Remove the dough from the fridge.
Shape as desired. I rolled it into a long roll same length as a baking loaf pan.
Transfer the shaped loaf into a loaf pan.
Cover the dough and let it proof overnight on the counter at 70-72F / 19-20C until next morning. It should at least double.
If you prefer to have square edges, close the lid of your Pullman loaf, or you can bake it without lid to get more open top.
Preheat the oven to 375F.
Bake for 35-40 minutes until golden brown.
Enjoy your white sandwich loaf 🙏
Summary
Recipe Name
Author Name
Published On
Preparation Time
Cook Time
Total Time
Average Rating
Based on 4 Review(s)