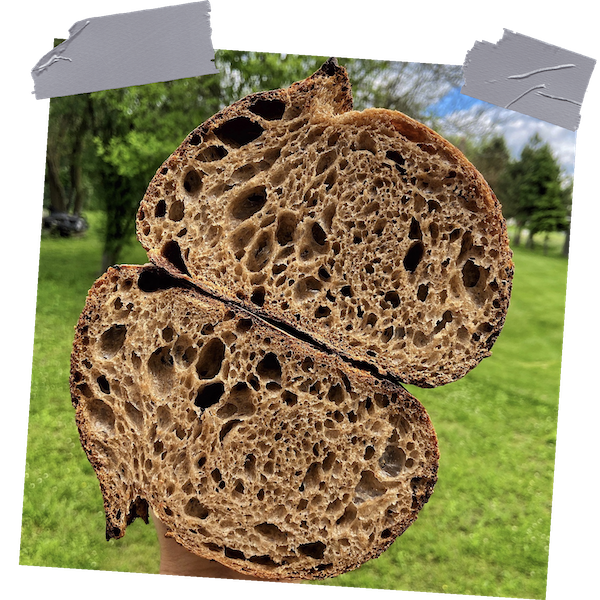 Have you heard of "Upcycling"? It is a new form of art, a way to reduce food waste and help the environment. Learn more from Forbes.
I've had a chance to use some upcycled spent grain flour in my bread today thanks to NETZRO.
"Tons of nutrient-rich, spent rye & corn grains are rescued by NETZRO every week. During the distilling process the sugars are extracted, then using NETZRO proprietary technology, the spent grains are restored leaving behind the nutritious fiber and protein." netzro.us
I was amazed of how flavorful and delicious the bread turned out. It was a fantastic, eye-opening experience how upcycled flour works with bread in all areas: texture, color and aroma. The fermentation went quickly (3-3.5 hours) which made the whole process so much easier.
And now I want to share the details with you.
Ready in:
24-30 hours
Serves:
6-10 people
Yield:
500g loaf
Units:
US, EU
Ingredients for levain
5g active starter
35g water
35g flour (mix of 90% bread flour +10% rye flour)
Ingredients for main dough
210g bread flour (70%) ( I'm using Ardent mills brand)
90g upcycled flour mix (30%) (80% whole wheat+20% upcycled rye flour from Tattersall
210g water(70%)+ 36g (12%)cold water extra added along with salt
60 gr levain(20%)
6 gr salt(2%)
The process
8 am feed the starter 1:7:7 (5g starter: 35g flour: 35g water) temperature 78F, the starter should at least triple in volume.
5 pm same day mix flour with water (autolyse 1 hour).
6 pm add starter(60g) to the dough( starter was on its peak), mix (stand mixer on low speed for 1 min or KitchenAid on speed 3 for 3-4 min.
6:30 pm add salt and 36 g of cold water. Pour water slowly, mix stand mixer on low speed for 3 min, or KitchenAid speed 3 for about 8-10 min, until dough will come up together.
7pm give nice stretch and fold. Wet your hands with water, to make it easier. Then round the dough, and let it rest for 45 min.
The dough was very active, it rose 30% in 3 hours, I had to perform 3 stretches and folds, 30 min apart at 7.30 pm, 8 pm, 8:30pm temp 76-78F/25-27C.
Final bulk fermentation lasted for only 20 min. At that point the dough rose up 40%, Temp 76-78F.
8:50 pm was performed preshaping. Leave dough uncovered to rest for 30 min.
9:20 pm shaping. Shape loaf as a batard. Leave the shaped dough in the proofing basket for 15 min uncovered.
9:35 pm put the dough to retard in the fridge for 18-24 hours.
Next day preheat the the oven with the bread pan inside to 500F for 1 hour.
Remove the loaf from the fridge, score it.
Bake the loaf straight from the fridge, with lid closed for 15min.
Once done, open the lid and bake at 450 F for 20 min until golden brown.
Enjoy 🙌