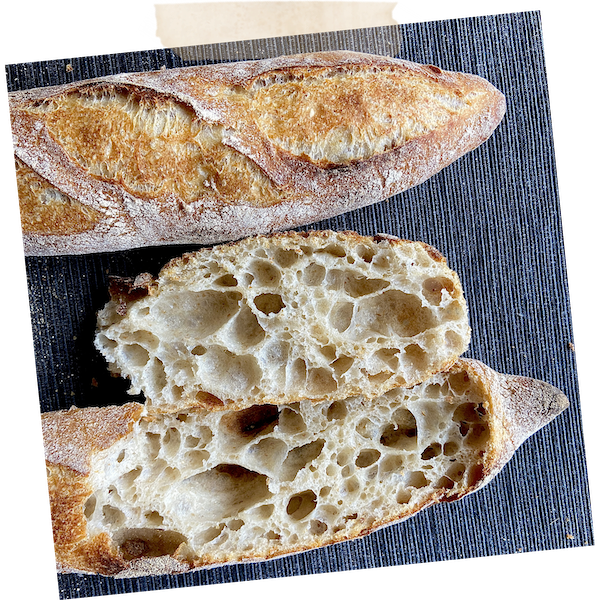 It might seem like an easy task to bake a perfect baguette, but in reality it's one the most challenging things for a baker.
And I'm so into challenges… that's why I've been mastering the formula over and over again. I asked professional chefs questions, looking for details… attempted to bake it many times and experienced so many failures…
Every time I felt I was so close to the right result, there still remained so much to learn…
And today I am finally ready to share with you my go-to formula…
Easy and delicious.
Ready in:
24 hours
Serves:
8-10 people
Yield:
4 x 250g Demi baguettes
Units:
US, EU
Sourdough starter (night before)
I always feed starter with 90% all purpose flour and 10% rye. Which makes it nice and strong.
Please note, summertime ratio for overnight feeding is higher (1:10:10) compared to wintertime( 1:7:7), because of the temperature difference. Depending on the strength of the starter, you can change the ratio.
Learn how to make starter from scratch here.
Main Dough
Directions
Starter preparation steps.
Night before:
10 pm add starter to the water and whisk together, add flour, mix well, cover loosely, let sit at room temp 70-75F till next morning until it reaches the peak (10-12 hours), it should at least double (starter isn't strong enough), or triple in size(strong starter).
Baguette dough preparation steps.
Next morning:
8 am mix water with flour, using spoon, cover, let rest 1-2 hours for autolyse (during the autolyse stage the flour absorbs the water, becoming fully hydrated. This will activate gluten development).
10 am Add sourdough starter. Mix on low speed of your mixing machine for 2-3 min, or KitchenAid on speed 3 for 3-4 min until well incorporated.
Cover, let rest for 30 min.
10:30 am add salt and extra water. The process of adding extra water calls bassinage it helps to tighten up gluten. Mix on low speed of your mixing machine for 2-3 min, or KitchenAid on speed 3 for 5-6 min until well incorporated. The dough should come up together, but still be sticky on the bottom. We will continue gluten development and structure building by performing stretches and folds during warm fermentation period.
Spray container with water, transfer dough into container, close lid.
Leave to rest 30 min. At 74-78F /23-26C.
11 am wet your hands and perform 1st stretch and fold.
11:45 am 2nd stretch and fold.
12:30 pm 3rd stretch and fold.
1:15 pm 4th stretch and fold.
Performing stretches and folds will help to continue gluten development.
After the final stretch let the dough rest for 15 min. You should see some bubbles on the surface, the dough has to become lighter. We are looking for 30%-40% rise. Some bakers prefer to push fermentation to 50% rise.
If, for some reason, the dough doesn't feel proofed enough, add 1 more stretch and a fold, after that go to the next step.
1:30 pm transfer dough to the fridge for cold slow fermentation.
Next day
Baguette preshaping steps.
Remove the dough from the fridge, turn container on the flourless surface. Using the of scraper divide the dough in 2 equal parts, then each part divide in 2 equal parts again. The weight of each dough piece should be around 240-250g.
Round each piece of dough with help of a scraper. And let rest uncovered for 30-45 min.
Baguette shaping steps.
Baguette loaf shaping requires a technique for proper proofing and achieving a beautiful looking loaf.
Turn the dough round on to floured surface. Pat it down roughly, form a rectangle.
Along the longer side, fold the upper third part of the rectangular dough toward the bottom third, then press down the folded section with your palm for it to flatten.
Now fold the bottom third toward the top, then press down the folded section with your palm for it to flatten.
Then use your thumb to make a crease in the middle of the rectangular dough, then fold it in half.
Seal the edges with your fingers, then roll the dough back and forth starting from the center towards the end until you achieve the desired length (about 24-28cm long). Generously sprinkle proofing couche with rice or semolina flour to prevent sticking.
Now transfer each shaped dough onto a proofing couche sealed side up. Cover baguettes with kitchen towel. Let them proof for 1 hour 30 min. It could take little more or less time.
Perform poke test to check the readiness. Give the dough a gentle but assertive poke. If the dough springs back right away, let it rise for a few more minutes. If the dough springs back slowly, like it's waking up from a long nap, and your poke leaves a small indentation, it's ready to go.
During proofing time start to preheat oven 500F with baking stone inside and iron tray on the bottom rack for 1 hour.
When the oven is hot and baguettes are proofed enough, flip them over on a parchment paper, score with 3-4 cuts.
Prepare 10 ice cubes.
Act fast, open the oven, transfer baguettes on to the baking stone, dump the ice cubes into the tray and put it on the bottom rack, close the oven door.
Bake for 10 min.
Lower the temperature to 475F, open the oven door, remove tray with excess of water. Bake for 15 more min.
Let your baguettes cool for 1 hour.
Enjoy 🙌