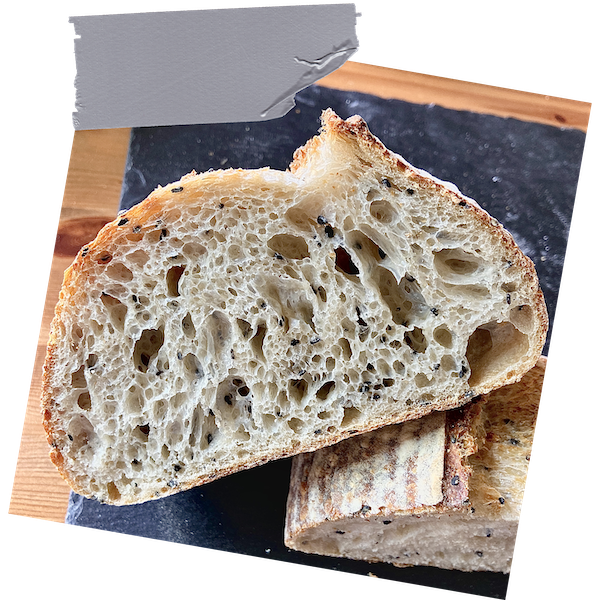 Here is something new and exotic for you to experiment with. My friend Maria from Brazil was so kind to share this recipe with me. I would have never thought that condensed milk and dragon fruit would work so well together in sourdough.
Ready in:
24 – 36 hours
Serves:
8-10 people
Yield:
600g loaf
Units:
US, EU
Ingredients
Sourdough starter
5g sourdough starter
35g water
Dough
270g bread flour (90%)
30g ultra grain wheat flour (10%)
1 dragon fruit purée (200g)
30g condensed milk (10%)
28g cold water (5%)
60 gr levain(20%)
6 gr salt(2%)
Directions
Starter:
7 am put starter into a jar with water and whisk together, add flour, mix well, cover loosely, let it sit at room temp 74-78F for about 8-10 hours. The starter has to reach the peak ( triple or more in volume).
Learn how to make starter from scratch here.
Dough:
5 pm mix the dragon fruit purée with flour and condensed milk, cover, let it rest 1 hour for autolyse.
During the autolyse process the flour absorbs liquid (from the fruit and condensed milk), becoming fully hydrated. This activates gluten development.
6 pm add sourdough starter.
Mix on low speed with your mixing machine for 2-3 min, or KitchenAid on speed 3 for 3-4 min until well incorporated.
Cover, let it rest for 30 min.
6:30 pm add salt and extra water.
The process of adding extra water calls bassinage it helps to tighten up gluten. Mix on low speed of your mixing machine for 2-3 min, or KitchenAid on speed 3 for 5-6 min until well incorporated. The dough should come up together, but still be sticky on the bottom. We will continue gluten development and structure building by performing stretches and folds during warm fermentation period.
Leave to rest for 30 min. At 74-78F /23-26C.
7 pm wet your hands and perform 1st stretch and fold.
7:45 pm 2nd stretch and fold.
8:30 pm 3rd stretch and fold.
Performing stretches and folds will help with gluten development.
Sugar from dragon fruit and condensed milk might make fermentation process go faster. So keep monitoring the dough, if it's rising too fast, you can shorten time in between stretches to 40 min or less.
After the final stretch let the dough proof for 30 min at 76-80F/ 23-26C. You should see some bubbles on the surface, the dough has to become lighter. We are looking for 40%-50% rise.
Preshaping dragon fruit sourdough
9 pm Transfer dough to a work surface and dust the top with flour. Flip the dough over so floured sides are face down.
Fold the dough onto itself so the flour on the surface remains entirely on the outside of the loaf. This will become the crust.
Place the dough round on a work surface and let it rest for 30 min uncovered.
Shaping dragon fruit sourdough
9:30 pm Dust the dough with whole wheat flour. Use a dough scraper to flip the dough over onto a work surface so floured sides face down.
Starting at the side closest to you, pull the right 2 corners of the dough to the left, then fold them up into half of the dough. Repeat this action with the left 2 corners.
Finally, roll the dough. Shape into a smooth, taut roll.
Transfer the roll, seam side up, to a prepared proofing basket (loaf pan with the kitchen towel)
Cover the dough with plastic and return the dough to 80F (27C) environment for 15 min.
Then transfer the dough to rise for 14-24 hours in the refrigerator.
Baking
Next morning:
Preheat oven to 500 F, place a cast iron pan with a lid inside for 45 min -1 hour.
Remove dough from the fridge.
Flip it over on parchment paper, score it with a sharp knife.
Transfer to the hot cast iron pan, cover with lid (to create steam for a beautiful and crusty crumb).
Bake at 500F for 15 min with lid on.
Remove the lid, lower the temperature to 450F.
Bake for 20 more min until golden brown.
Let it cool for 2 hours and enjoy.