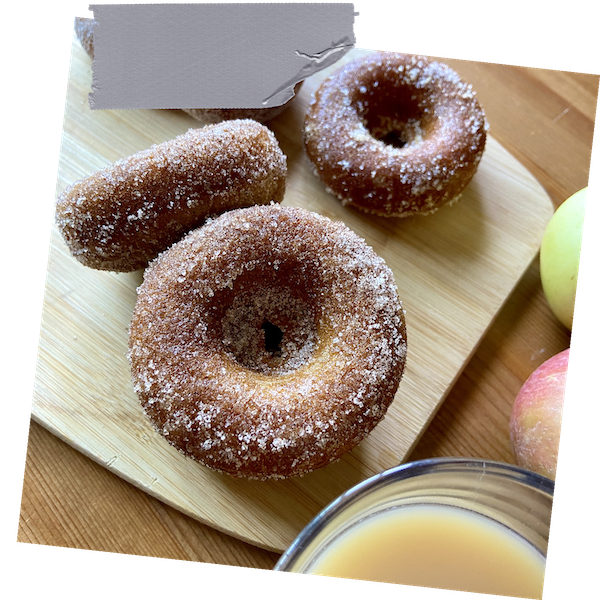 Last weekend we went for apple picking. As I reached for each apple and put it in the basket, my mind was processing the ideas of what to bake using apples. Apple cider doughnuts with sourdough discard seemed like a good one for the upcoming Fall season!
The recipe is super fast and easy to make, and of course absolutely delicious.
You'll need a doughnut mold to bake these, or you can use muffin tins and make apple cider muffins. The flavor remains the same.
For 8 doughnuts you'll need the following:
Ingredients
Dough
300 g Apple cider , boiled and reduced in half, until you'll get 130g of thicker version of cider.
70 g sourdough discard, strait from the fridge.
30 g melted butter
50 g egg (1 large egg)
60 g sour cream
50 g brown sugar
160 g all purpose flour
1/2 tsp baking soda
1/2 tsp salt
1 tsp vanilla
1 tsp cinnamon
1/4 tsp nutmeg
1/4 tsp cardamon
Sugar Topping
1/2 cup of white granulated sugar
1 tsp cinnamon
1/4 tsp nutmeg
1/4 tsp cardamon
30g melted butter
Directions
To bring up stronger apple flavor, add the following step.
Night before, boil 300g of apple cider on a medium/high heat, wait until half of it evaporates (it might take up to 30 minutes). Let it cool.
If you don't have enough time, you can use straight apple cider, the flavor will still be there.
Next day, or when cider has cooled off, mix all wet ingredients (cider, sourdough discard, egg, sour cream, melted butter, vanilla and sugar).
Whisk until well incorporated.
Add dry ingredients (flour, salt, baking soda, spices). Mix dough really well, let it rest for 10 minutes.
Meanwhile prepare the doughnuts mold, spread a thin layer of butter all over the mold and dust it with flour, to prevent doughnuts from sticking to the sides of the mold.
Fill the mold about half way.
Preheat the oven to 350F.
Bake the doughnuts for 13-15 minutes. Doughnuts are ready, when you poke the top of the doughnut and it bounces back.
Take the doughnuts out of the oven, let them cool down for 10 min.
Topping
Mix sugar with spices.
Brush each doughnut with butter.
Roll it generously in spiced sugar.
Enjoy your apple cider doughnuts with sourdough discard!