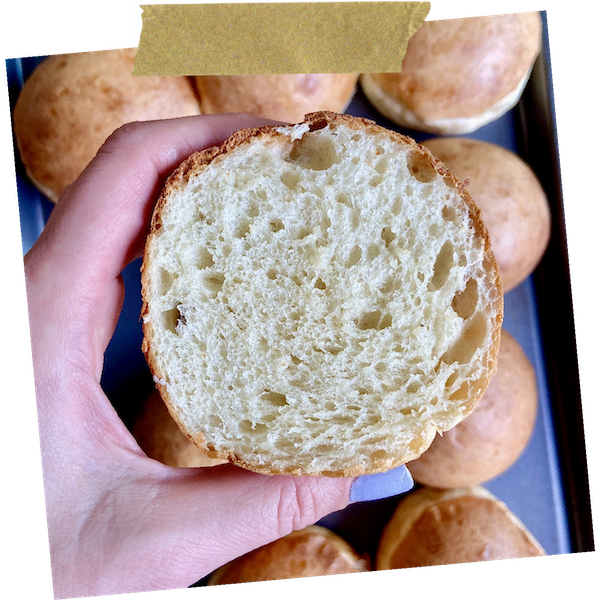 For some reason, simple at first look brioche burger buns appeared so hard for me to master. I made more than a dozen attempts adjusting and perfecting the recipe. The buns were coming out either too hard, or too stiff, sometimes way too crunchy on the outside. And I was looking for a perfect result with soft texture and incredible taste, that would stay fresh for at least 2-3 days.
Finally I feel confident sharing my discovery with you.
The amount of butter in the dough is about 25%. That means – the fermentation process will take a VERY long time. For this reason I added 0.33% of instant dry yeast to speed up the process, and eliminate the extra sourness.
You might ask, why not pick one and either go with sourdough or instant yeast.
The answer is simple: the combination of both ingredients helps to achieve an almost perfect result. Starter extends the product shelf life (in 3 days you should still have soft buns), yeast will speed up the fermentation and will get rid of sour taste.
Here are the details.
Ingredients
Sweet Stiff Sourdough Starter
8 g sourdough starter
25 g water
50 g bread flour
5g sugar
Yudane
Dough
250 g bread flour (83%)
125 g milk (42%)
60 g sweet stiff starter (20%)
1 g dry instant yeast (0.33%)
2 egg yolks + 1 large egg
50 g sugar (16.6%)
75 g soft butter (25%)
6 g salt (2%)
Directions
Day 1
Starter
10 pm dissolve sugar in the water, add starter and whisk together, add flour, mix well, form a ball, place in jar, cover let sit at room temp 74-78F until it increases in volume in 2 or more times.
Stiff sweet starter will help us to lower the acidity of final product (learn how to make sourdough starter from scratch here).
Day 2
Yudane method
Yudane is a paste of flour, cooked in water that is used to improve the bread texture, making it soft and fluffy. For tangzhong the flour is cooked at 65°C in water which causes its starch to gelatinize. For yudane the flour is mixed with almost equal weight of boiling water poured over it.
7 am mix flour and hot boiling water, until all flour hydrated.
Let it rest and cool down .
Dough
8 am in a bowl of stand mixer add milk, yudane mixture, sweet stiff starter, yeast, an egg, egg yolks, sugar, yudane to the flour and let autolyse for 1 hour.
During the autolyse period the flour becomes fully hydrated. This activates gluten development.
9 am mix dough on low speed of your mixing machine for 2-3 minutes, or KitchenAid on speed 3 for 3-4 minutes until well incorporated.
Add salt mix for a couple more minutes. The dough should form a ball.
Add soft butter, increase the speed of mixer, mix for 10-20 more minutes until the dough is well incorporated and comes up together but still will stick to the bottom of the bowl. You will be able to perform windowpane test.
Cover and let it proof for 3-4 hours at 76-80F/ 24-28C.
During that time perform 2 stretches and folds.
The dough should become slightly puffy.
1 pm transfer the dough to the fridge for cold fermentation till next morning.
Day 3
8 am Remove the dough from the fridge.
Divide equal pieces (about 70 g each)
Pinch all edges to the bottom of a roll, try to round it tightly.
Transfer the shaped rolls on to a baking tray, lined with parchment paper or silicone mat. I was afraid the buns would spread a lot during baking, so I've created DIY foil shape holders (you can use silicone burger bread form). It will help to hold the shape better.
Cover the rolls and let them proof for 3-4 hours 70-74F /20-23C, or until they double in volume. Egg wash the buns with mixture of an egg and 2 tbs of water.
Bake at 375F for about 20-25 min until golden light brown.
Note: don't let the buns get too dark, that's an indicator of the dry crumb. The goal for them is to stay soft for a long time🙏
Enjoy your brioche burger buns!