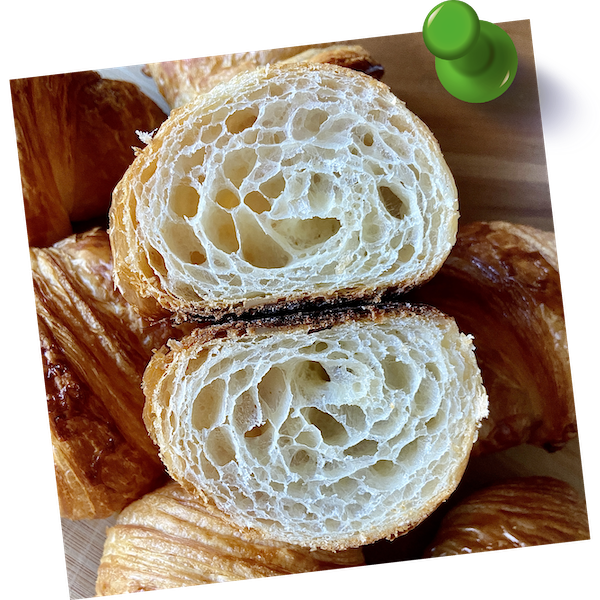 No matter how hard I've tried and wanted to make croissants with sourdough starter, or hybrid method… yeast croissant remains the winner.
So light and airy, crunchy on the outside, soft inside.
The original recipe was generously shared by @season_adam on his Instagram page.
I wanted to share it with you and save it here in my journal.
Main Dough (for 7-8 croissants)
350 g bread flour (protein 12-13%) (100%)
108 g water (31%)
109 g milk (31%)
32 g sugar (9 %)
8 g salt (2.3 %)
3.85 g instant yeast (1.1%)
205 g roll-in butter (pastry butter with 82% fat or more) (58.5%)
Night before
Dissolve yeast in water and milk mixture, add sugar, salt and all flour. Mix by hand , or on a slow speed of your mixing machine. No need to develop gluten. Dough can remain little lumpy. Gluten will develop by itself overnight.
Cover in plastic wrap, put in the fridge until next morning.
Next day
Prepare butter for rolling. Butter has to be playable, not too soft, use parchment paper to roll it into a block, about 12-14 cm each side), transfer it to chill in the fridge for 15 minutes before rolling.
Please note, the butter shouldn't be too cold, or too warm: If its too cold, then during lamination, it will start to break into pieces. if its too warm it will melt in between the layers.
Remove the dough from the fridge. Roll it as a square, big enough to place the butter block inside. (About 25cm x 25 cm).
Place butter block inside the dough, the way it showed on the picture.
Seal the edges, to let butter stay inside.
Start rolling by pushing the butter from 1 side to another (lengthwise).
Cut the edges. Place on top of the dough. It will release the tension during rolling
Fold the dough as a letter.
Turn the dough 90 degrees, and continue rolling lengthwise. Cut the edges, put them aside, fold the dough as a letter.
Cover, transfer it to the fridge for 1 hour.
Repeat the same letter folding.
Note: you can do 3 letter folds in total, or 1 book and 1 letter fold.
Cover, transfer it to the fridge for 1 hour.
Remove the dough from the fridge.
Roll it in a rectangle with a narrow side about 23-26 cm.
The dough should be 4-5mm thick.
Cut the dough (the base of croissant has to be 8cm).
Shape them and cover.
Note: at this point you can transfer covered shaped croissants to refrigerator until 9-10pm, then you can remove them and let them proof overnight at 68-72C/20-22C. And you'll be able to bake fresh croissants for breakfast.
Or
Cover croissants and let them proof for about 4-5 hours at 74-78C / 24-26C until they double in volume and become jiggly.
Egg-wash (mix one egg with 2 tbs of water).
Brush croissants with egg mixture.
Preheat the oven to 375F.
Bake croissants for about 25-30 minutes until golden brown.
If you would like to advance your croissant making skills, consider the Croissant Yeast Method Course.