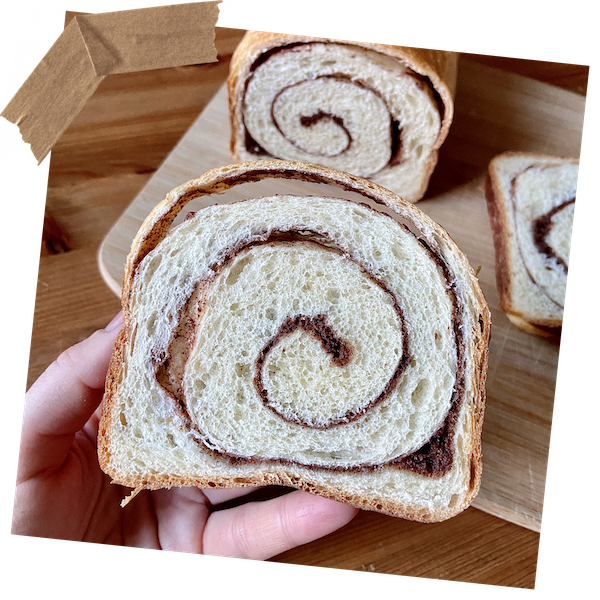 This cinnamon bread was on my list for long time, now i am regretting that i haven't tried to bake it earlier. It is perfect for breakfast, it remains soft for a couple of days and it is so delicious when lightly toasted with some butter or cream cheese on top.
Ingredients
Sourdough Starter 
Dough
300g bread flour (100%)
150g milk (50%)
1 large egg
30g sugar(10%)
50g soft butter (16.6%)
60g starter (20%)
6g salt (2%)
0.5 g dry yeast (optional, to reduce sourness)
Cinnamon Filling
2 teaspoons cinnamon
4 tbs sugar
1 tsp all purpose flour
1 egg mixed with water, for using to stick the filling to the dough.
Directions
Day 1
Starter
10 pm add starter to the water and whisk together, add flour, mix well, cover loosely, let it sit at a room temp 74-78F for about 8-10 hours until starter reaches its peak (at least triples in volume).
Day 2
Dough
8 am mix milk, egg, sugar, sourdough starter (60g on its peak, use the rest for future feedings), add all the flour, let it autolyse for 1 hour.
During the autolyse process the flour becomes fully hydrated. This activates gluten development.
9 am mix the dough on low speed of your mixing machine for 2-3 minutes, or KitchenAid on speed 3 for 3-4 minutes until well incorporated.
Add salt, mix for a couple more minutes. The dough should come up together.
Add soft butter, mix for 10-15 more minutes until the dough is well incorporated and comes up together.
Perform a windowpane test. Wet your hands and stretch the dough. You should be able to stretch it very thin, that's a sign of a well developed gluten, and that your final product will have a soft and light structure.
Cover and let it proof for 3-4 hours at 76-80F/ 24-28C.
During that time perform 2 stretches and folds.
The dough should become slightly puffy.
1 pm transfer the dough to the fridge for cold fermentation for 6-8 hours
9 pm Remove the dough from the fridge.
Prepare the cinnamon filling by mixing all the dry ingredients together.
Shape the dough as a rectangle, the smaller side of it should be the same width as your baking/loaf pan.
Spread egg wash all over the dough, then evenly spread the cinnamon filling.
Roll the dough into a log, try to roll it tight.
Place the loaf into a lined baking pan.
Let it proof overnight at 68-72F/ 20-22C
Next morning it should double or more in volume.
Preheat the oven 375F
Bake it for 30-35 min until golden brown.
Remove it from the oven, spread melted butter on top.
Let it cool down.
Enjoy your cinnamon swirl bread!