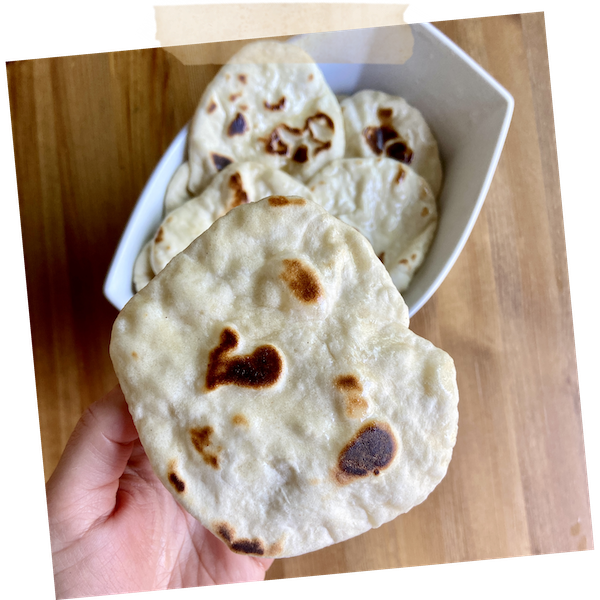 You won't believe how good this naan bread is. Seriously addicting.
With any type of grilled meat or for vegetarian meal, with hummus and some spicy sauce.
You'll love it.
I regret I didn't make double batch, because reheated small naans preserve their original taste and freshness really well!
Ingredients
Main Dough
100g lukewarm water
100g Greek yogurt
150g sourdough discard
12g salt
45g sugar
1 egg
535g all purpose flour
Spread
50g melted butter
2 gloves of garlic, minced
Directions
Naan Dough Preparation
Whisk together water, yogurt, sourdough discard, egg, sugar, salt and add flour.
Knead the dough for couple of minutes, or use mixer, until the dough comes up together, and becomes smooth. You can adjust the dough by adding more flour if it's sticky, or by adding more water if it's too stiff.
Cover, let it proof at 80-84F for 2-3 hours.
Perform 2 folds during proofing time.
By the end of proofing, the dough will become slightly puffy, and will be covered with tiny bubbles.
Dump the dough on slightly floured surface.
For small naan, divide the dough on pieces, 30g each, round them.
For bigger naan, divide the dough on 60-70g pieces, round them.
Cover with towel or plastic and let rest 30 min.
Meanwhile, melt butter.
Mince garlic.
Mix garlic with melted butter.
Preheat frying pan.
Roll each piece of dough into a thin circle.
Put the dough on the hot pan.
Let it bake for 2-3 min on medium heat.
Flip the naans over on the other side. Let them bake for 2 more minutes, until you see brown spots all over. Using a brush, spread the garlic butter on each side of each naan.
Remove baked naans on a plate.
Note: keep warm naans covered with another plate or plastic wrap while you finishing baking the rest. Steam will make them very soft.
Enjoy!
Summary
Recipe Name
Naan Bread with Sourdough Discard
Author Name
Published On
Preparation Time
Cook Time
Total Time
Average Rating
Based on 18 Review(s)