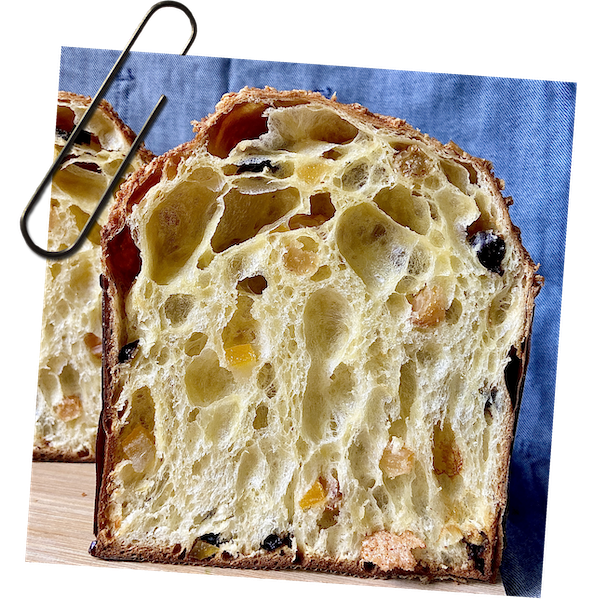 In this post you will find a much wanted Panettone recipe, as well as tips, recommendations and a helpful dough calculator.
The recipe is a well known formula from chef Piergiorgio Giorilli, adapted by Michael from The Fresh Loaf website.
Aromatic Mix
Directions
Night before making the dough mix all the ingredients for aromatic mix and let them soak in the fridge overnight.
First Dough
69g stiff starter (40% hydration)
75g sugar
120g water
54g egg yolks
72g butter
240g flour
Directions
Mix water and sugar, add stiff starter and flour.
Add butter, knead until well incorporated, slowly add egg yolks.
Total mixing time about 20-25 min.
First dough should triple in volume in about 12 hours.
Second Dough
60g flour
66g sugar
4g salt
96g egg yolks
129g butter
2g malt
120g raisins
60g candied orange peel
30g candied lemon peel
Directions
Mix flour and malt, add first dough, knead well, add sugar, egg yolks, salt and flavorings, incorporate butter.
Total mixing time 45-55 min.
Before shaping, insert 2 bamboo sticks into each paper mold. It will help, after baking, to hang panettone upside down for stabilization. You can poke the baked panettone with sticks, but I find it less efficient.
Divide according the size of your mold.
Use this helpful tool below to figure out the amount of dough needed for various Panettone mold sizes.
Let it proof for 6-8 hours at 28-30C/ 82-86 F.
Bake at 350F for 25-35 minutes depending on the weight of panettone. Hang them upside down for about 12 hours to stabilize the crumb.
Critical Points
Strong flour, high quality ingredients are very important.
Leavening is the foundation of success when making panettone. By using the stiff sourdough starter for the Panettone production you achieve two things: extend Panettone's shelf life and give it that unique fluffiness.
Strong and active stiff starter (lievito madre) with balanced level of acidity. It has to be properly fermented and refreshed before it is added to the dough.
Temperature of the dough is something to keep an eye on. Keep monitoring the temperature during mixing. It shouldn't go higher then 28 C/82 F.
The order of adding ingredients during mixing is important as well. First dough will take 20-25 minutes to knead. Second dough will take 45-50 minutes to knead.
And the most important piece – is your patience.
Panettone is a very time consuming baked good to work with, but it is so worth it.
If you feel that you need additional information on how to prepare stiff starter (lievito madre) from liquid sourdough starter, how to decrease acidity of the final product, how to properly mix the ingredients, or want to review detailed step by step video instructions on this topic please consider my Panettone for Beginners Course and Panettone Advanced Course.
Good luck!
Summary
Recipe Name
Author Name
Published On
Preparation Time
Cook Time
Total Time
Average Rating
Based on 78 Review(s)