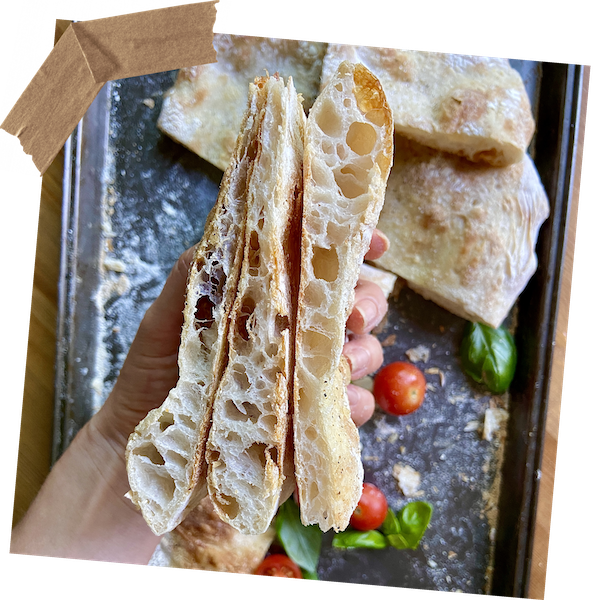 Very trendy now, light as air Pizza a la Romana, is super soft inside and slightly crunchy outside. You can make gourmet caprese sandwich, or prosciutto arugula… or anything you like. This kind of bread is usually the first one to disappear from our lunch table.
It is made with slight amount of yeast, so tiny, you won't even notice.
Ingredients
Poolish
Main Dough
All poolish
2g malt 
81g water
10g salt
Directions
Prepare Poolish
Night Before
In container add yeast to water, add flour, whisk all together, cover the lid, let ferment at room temp till next morning.
Next morning:
Mix all poolish with flour, malt and salt on low speed of your mixing machine for 6-7 minutes, or KitchenAid on speed 3 for 7-10 minutes until well incorporated.
Notet: dough has to come up together before you'll start to add water.
Slowly start to add water little by little. Increase the speed of mixer to high and continue mixing for 12-15 minutes.
If dough seems too loose, make a stop for 1-2 minutes and continue mixing on high speed.
Dough has to come up together and clear out sides of the bowl.
Cover the bowl and let the dough to proof for about 2-3 hours at 76F.
Perform 2-3 stretches and folds during proofing time.
Dough has to become slightly puffy.
Transfer the dough to airtight container and move it to the refrigerator for 12-24 hours for cold fermentation.
Preshaping
Next Day
Remove the dough from the fridge.
Use big bowl with flour in it.
Dump the dough from the container into the bowl with flour.
Pinch all floured sides together (sticky dough will remain inside).
Move the preshaped dough (seam side up) into another tray or container, generously sprinkled with flour.
Cover the dough and let it proof for 2-3 hours at 76F until it doubles in size and becomes puffy.
Shaping
Preheat the oven to 500F.
Generously sprinkle baking tray with flour, set aside.
Dump the dough on to a well floured surface.
Shape it as shown on the picture below – pinch your fingers into the dough creating air bubbles (same way as if you would shape focaccia) and try to spread the dough as big as a size of your baking tray. Thickness should be about 1 inch.
With floured hands transfer the dough into a tray, spread around.
Optional, sprinkle some olive oil, salt and seasoning of your choice on top.
Bake for 12-15 minutes until golden color.
Enjoy!
Summary
Recipe Name
Pizza a la Romana with Poolish.
Author Name
Published On
Preparation Time
Cook Time
Total Time
Average Rating
Based on 27 Review(s)