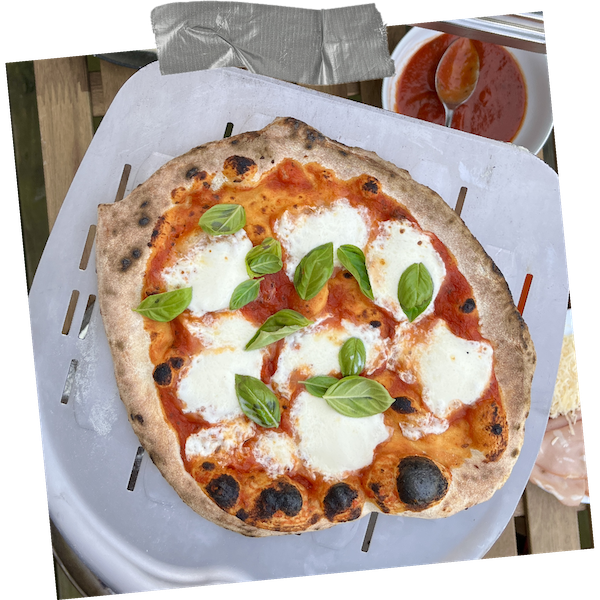 If you are using one of the outdoor pizza ovens, then I would strongly recommend for you to consider lowering the dough hydration and using yeast instead of sourdough starter as a leavening agent. The reason being, the sourdough starter makes the crumb wet (if you bake pizza in an outdoor pizza oven like ROCCBOX by Gozney). 
The recipe is super easy and can be mixed by hands.
Patience and lower temperature are the key components to achieve an open and light pizza crust.
Yield: 8 x 200g pizzas.
Ingredients
Main Dough
Directions
4 pm Dissolve yeast in water, add flour and salt, knead by hand or in mixer for couple of minutes, until all incorporated, but dough still look lumpy.
Let rest 30 min covered
4:30 pm knead the dough by hand or in mixer for couple of minutes. Dough should start to look nice and smooth.
Let rest 30 min covered.
Prepare tray, oil it with olive oil.
5 pm Divide the dough on 8 pieces, 200g each. Round them. Transfer pizza balls to the tray, cover with plastic.
Let ferment at 18-20C until next day (for 18-22 hours).
Note: find a cool place in your house. Slow and long fermentation at lower temperatures will give a nice open crumb to your pizza.
Next day
By the end of fermentation the dough will spread, and won't look bubbly. It will remain kind of flat. That's the key to a successful crust.
2 pm start preheating your rock box for at least 40 min on a high flame. The temperature has to reach 700F.
Start shaping your pizza dough.
Use semolina flour, to prevent sticking.
Garnish your pizza with sauce and toppings.
Load pizza inside the oven, change the flame to the lowest mode, keep rotating pizza every 15 seconds, to prevent burning.
Enjoy!
P.S. if you are interested in sourdough pizza recipe, it is available in my book.