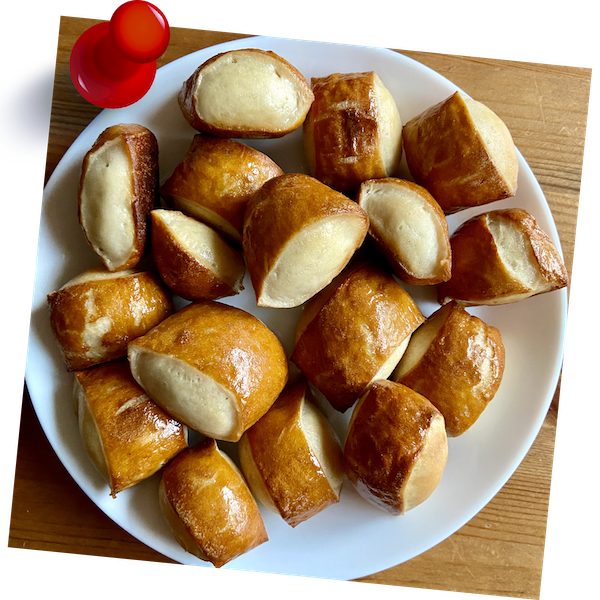 This is a very easy, same day sourdough pretzel bites recipe that you should absolutely try. Pretzels are loved by so many people, and what is not to love? They have an incredible texture, as well as great taste and flavor.
Ingredients
Sweet Stiff Sourdough Starter
10 g sourdough starter
35 g water
70 g bread flour
10 g sugar
Main dough
100 g sweet stiff starter(37%)
150 g warm water (58%)
270 g bread flour (100%)
27 g sugar (10%)
5 g salt (2%)
2 g malt (could be replaced by 6 g of honey)
27 g soft butter (10%)
Garnish
Sea salt (optional)
Melted butter for brushing baked pretzels (optional)
Boiling
Wide pot
1 gallon of water
3 tbs baking soda
Directions
Starter
10 pm dissolve sugar in the water, add starter(100g) and whisk together, add flour, mix well, form a ball, place in a jar, cover and let it sit at room temp 74-78F until it increases in volume in 2 or more times.
Stiff sweet starter will have lower hydration then regular liquid starter and will help us to lower the acidity of final product (learn how to make sourdough starter from scratch here).
Dough
Add all the ingredients, except butter, into a mixing bowl, knead for 5-10 minutes until well incorporated, at the end of mixing add soft butter, continue to mix for a couple more minutes, until gluten is developed.
Cover and let it rise until dough becomes lighter and bigger with bubbles on the surface for about 3-4 hours, perform a couple of folds during this time.
Shaping
Prepare baking tray with parchment paper generously oiled.
Place the dough onto a non-floured surface. Flatten the dough into a rectangle and divide it into 4 equal pieces, about 110-115 grams each, prereshape them as cylinders, then roll into 20cm long ropes.
Set the pretzel ropes on a prepared baking tray. Cover and let them proof for about 1 hour (until they become puffy).
When proofing is done, move the pretzel ropes into the fridge for 30 minutes (it will help to transfer them into boiling water later).
Boiling
While the dough chills in the fridge boil the water. Add baking soda and whisk well to have it dissolved.
Preheat your oven to 425F (220C).
Remove the pretzel ropes from the fridge, put 2 of them into the pot with boiling water and wait for them to float on the surface (10 seconds or less). Cook for 20-30 seconds on each side for a thin crust. Using a slotted spoon, remove your pretzel ropes from the boiling water, and place them on a well oiled parchment paper, let them cool for about 1 minute.
Use scissors to cut the ropes into bite size pieces (about 1 inch thick).
Ensure that pretzel bites remain on an oiled parchment paper.
Sprinkle them with sea salt (optional).
Baking
Bake pretzels for about 14-16 minutes until they turn nice and brown.
Brush them with melted butter, while still hot for more flavor.
Enjoy your sourdough pretzel bites 🥨