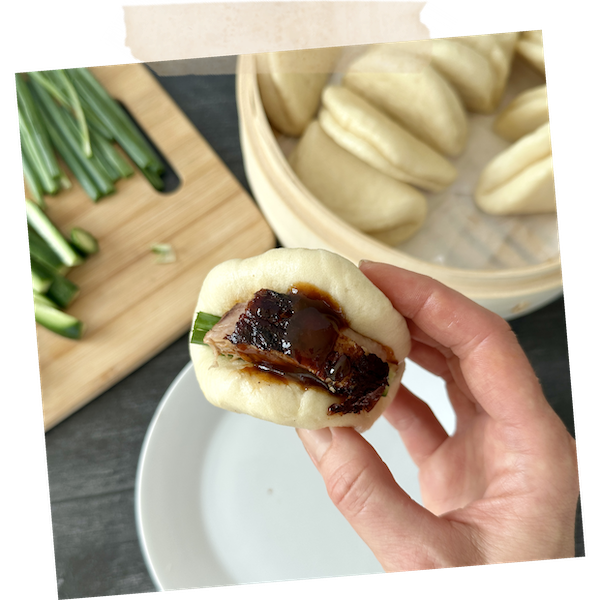 These steamed bao buns are soft and very flavorful with a very unique texture. Fill them with Peking duck slices, teriyaki beef or any kind of meet of your choice or shrimp, drizzle some sauce and you'll get the restaurant quality dish ready for the whole family.
| | |
| --- | --- |
| Ready in: 2-3 hours | Serves: 4-6 people |
| Yield: 12 x 30g | Units: US |
Ingredients
Main Dough
150g lukewarm water
50g sugar or honey
300g bread flour
6g salt
15g oil for the dough and extra oil for spread
Directions
8 am mix lukewarm water, dry instant yeast and sugar until dissolved add flour, salt, mix all together, until no dry flour remained, cover, let rest 30 min for autolyse (during the autolyse stage the flour absorbs the water, becoming fully hydrated. This will activate gluten development). Dough will look lumpy but don't worry it will become smooth later.
8.30 am knead by hands or with your mixer for 5-7 min. Until dough will become smoother. Cover, let rest for 1 hour – 1 hour and 30 min at 76-84F/24-28C. During that time perform nice stretch and fold.
10 am dough should get almost twice bigger in volume.
Sprinkle work surface with flour.
Roll out the dough 1/4-inch thick. Sprinkle more flour if needed.
Using cookie cutter or wine glass cut out the dough circles. Use scraps, knead them a little, roll again and cut more circles ( You should make around 12 circles).
Roll each circle a little to create oval shape.
Spread some neutral oil on one surface of the baos and fold in half like a half-moon shape.
Place each bao on a parchment paper, cover and let proof for 30 min.
Meanwhile, bring water to boil on a wok or steamer pot.
10.30 am Place proofed baos inside the steamer, then carefully transfer steamer on top of boiling water wok/pot. Make sure water is not touching the baos. Cover and steam for 2-3 minutes. When they are done cooking, tilt the lid a tiny bit for slow air circulation about 2 to 3 minutes before open the lid.
Carefully remove baos from steamer and place them on a plate.
Please note, these buns taste best when they are warm.
Summary
Recipe Name
Author Name
Published On
Preparation Time
Cook Time
Total Time
Average Rating
Based on 2 Review(s)