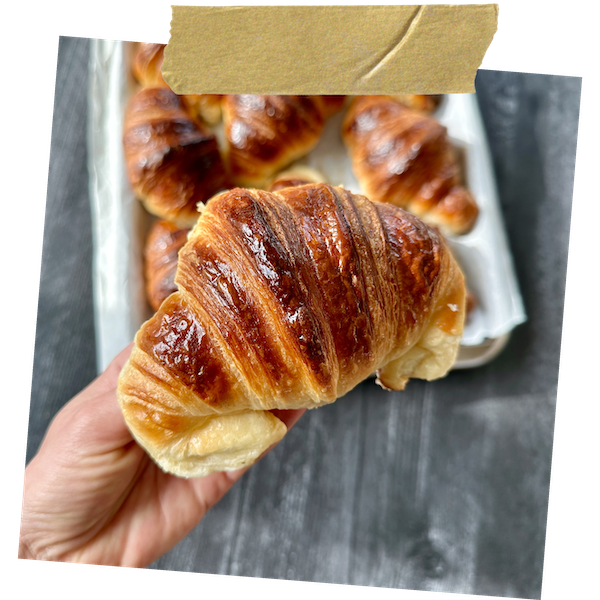 Medialunas or Argentinian croissants are very rich in flavor and delicious alternative to French croissants.
Main difference between medialunas and croissants is that medialunas have egg and honey in the dough while croissants do not. Another difference is in ingredients' ratio – croissants have more butter and less sugar.
Ingredients
Main Dough (for 12 medialunas)
500 g bread flour (protein 12-13%)
235 g milk
20 g water
75 g sugar
10 g salt
1 large egg
5 g instant yeast
15 g honey
20g soft butter for the dough
225 g roll-in butter (pastry butter with 82% fat or more) + 25g flour
Sweet syrup
Directions
Night before
Dissolve the yeast in water and milk mixture, add sugar, honey, butter, egg, salt and all flour. Mix on a slow speed of your mixing machine on medium speed for 5-10 min until gluten development and windowpane.
Cover the dough in plastic wrap, put in the fridge until next morning.
Next day
Remove butter from fridge in advance to make it soft. Transfer butter and 25g flour into a bowl of your mixer. Mix with paddle attachment until butter will become creamy and all flour incorporated ( do stops if needed, to scrape the sides of the bowl)
Scrape all butter on prepared parchment paper, roll it into a block, about 20cm/ 7.8 inches each side), transfer it to chill in the fridge for 15 minutes before lamination.
Note: the butter shouldn't be too cold, or too warm: If its too cold, then during lamination, it will start to break into pieces. if it's too warm it will melt in between the layers.
Remove the dough from the fridge. Roll it as a rectangle, big enough to place the butter block inside. (About 20cm x 40cm / 7.8 inches x 15.8 inches)
Place butter block inside the dough, the way it showed on the picture.
Seal the edges, to let butter stay inside.
Start rolling by pushing the butter from 1 side to another (lengthwise).
Cut the edges. Place on top of the dough. It will release the tension during rolling.
Fold the dough as a letter ( by folding 1/3 of the dough to the center, and covering it with leftover part)
Turn the dough 90 degrees, and continue rolling lengthwise. Cut the edges, put them aside, fold the dough as a letter. (See the picture)
Note: work fast, and try not to touch the dough too much, to avoid overheating
Cover the dough , transfer it to the fridge for 1 hour.
Remove the dough from the fridge. Repeat 1 more fold (as a letter)
Note: you have to make 3 letter folds in total.
Cover the dough , transfer it to the fridge for 1 hour.
Roll it as a rectangle with a narrow side about 26-28 cm / 10-11 inches
Roll until the dough will become 5mm /0.1 inch thick.
Trim all uneven edges.
Cut the dough (the base of medialunas has to be 9cm).
Shape medialunas as a crescent, pinch the edges together, they will relax during proofing and will create crescent shape. Cover medialunas.
Note: at this point you can transfer covered shaped medialunas to refrigerator until 9-10pm, then you can take them out and let them proof overnight at 68-72C/20-22C. This way you'll be able to bake fresh croissants for breakfast.
Or
Cover medialunas and let them proof for about 4-5 hours at 74-78C / 24-26C until they double in volume and become jiggly.
Egg-wash (mix one egg with 2 tbs of water).
Brush medialunas with egg mixture.
Preheat the oven to 375F.
Bake medialunas for about 20-25 minutes, or until golden brown.
Meanwhile prepare sweet syrup by boiling sugar and water together.
Remove baked medialunas from oven, and immediately generously brush them with sweet syrup.
Enjoy!
Summary
Recipe Name
Medialunas (Argentinian croissants)
Author Name
Published On
Preparation Time
Cook Time
Total Time
Average Rating
Based on 19 Review(s)