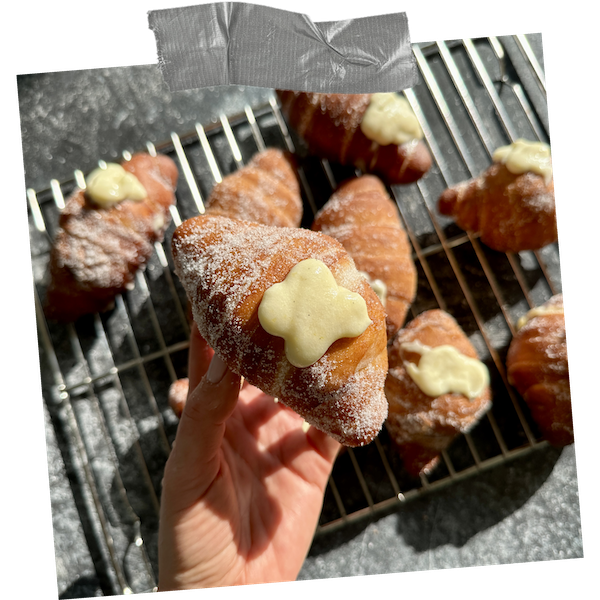 How about combining two of the best desserts in the world – croissants and donuts? Croissant shaped donuts look charming and taste unbelievably good! Please don't confuse this with cronuts (I am still working on perfecting this recipe).
Sourdough version of the donut recipe can be found here.
Ingredients
Dough
250g lukewarm milk
100g sugar
2 large eggs
500 g bread flour, plus more for dusting
50g unsalted butter at room temperature
10g salt
Vegetable oil, for frying
Vanilla Donut Glaze
Custard Filling
300ml milk
2 yolks
2tbs cornstarch
100g sugar
1 vanilla bean
Whipped cream
1/2 cup heavy whipping cream
75g sugar
Directions
Dough
8 am mix milk, dry instant yeast, eggs, sugar, yeast and flour(let it autolyse for 30 minutes).
During the autolyse period the flour becomes fully hydrated. This activates gluten development.
8.30 am mix the dough on low speed of your mixing machine for 2-3 minutes, or KitchenAid on speed 3 for 3-4 minutes until well incorporated.
Add salt and mix for a couple more minutes. The dough should form a ball.
Add soft butter, increase the speed, mix for 10-15 minutes until the dough comes up together. If its not coming up together, feel free to add a little more flour (20-40g).
9 am cover the dough and let it proof for 2-3 hours at 76-80F/ 24-28C.
During that time perform 2 stretches and folds.
The dough should become puffy.
11 am move the dough to fridge for at least 2 hours, or until next day.
1 pm remove the dough from fridge, sprinkle work surface with flour, roll the dough in a rectangular with sides about 70 x 27cm and about 0.5 cm thin.
Cut triangles with base 8.5-9cm
Roll them as a croissants.
Let them proof for 2 hours at 76-80F/ 24-28C.
Preheat the oil for about 30 minutes, and fry the doughnuts for 1-2 minutes on each side until golden brown.
Prepare the glaze, by mixing all ingredients until smooth.
Then dip doughnuts into the glaze or simply roll donuts in granulated sugar and enjoy.
Note: also you can fill the donuts with custard or your favorite jam.
Custard Filling
Boil milk, in separate bowl, combine sugar, cornstarch and yolks, pour hot milk over yolk mixture, bring to a medium heat, whisking constantly, until custard will get thicker. Cover and let cool off. Whisk heavy whipping cream with sugar until soft peaks. Combine both custard and whipped cream and fill the donuts.
Summary
Recipe Name
Author Name
Published On
Preparation Time
Cook Time
Total Time
Average Rating
Based on 25 Review(s)