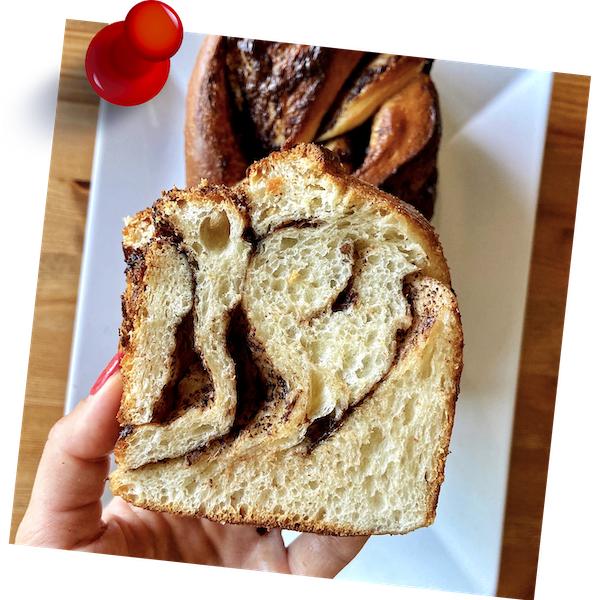 You are probably not going to believe what inspired this chocolate sourdough babka recipe 😊
Recently my husband and I started watching an old sitcom show called Seinfeld. In one of the episode Jerry and Elaine came to a bakery, and wanted to buy the most delicious chocolate babka in town. It made drool on the screen.
And of course, next morning I set the dough 😊
Are you ready?
Here are some notes first.
100% sourdough babka is possible to make, but proofing time will take forever, because of all the enrichments (butter, sugar and eggs), plus the tangy taste will be present, which is not liked many.
To speed up the process and eliminate the sour taste the recipe will require a very tiny amount of instant yeast. Less than 0.5% from total amount of the dough.
Ingredients
Sourdough starter
Dough
59g whole milk
50g sourdough starter
0.7g active dry yeast
60g granulated sugar
280 grams bread flour, more if needed
5g fine sea salt
1 teaspoon vanilla extract
2 large eggs, at room temperature,
70g unsalted butter, at room temperature
Fudge Filling
100-150g hazelnut spread Nutella
Directions
Day 1
Starter
10 pm add starter to the water and whisk together, add flour, mix well, cover loosely, let it sit at a room temp 74-78F for about 8-10 hours until starter reaches its peak (at least triples in volume).
Day 2
Dough
8 am dissolve dry yeast in milk, sugar, sourdough starter (50g on its peak, the rest use for future feedings) vanilla and eggs.
Let it autolyse for 30 minutes .
During the autolyse process the flour becomes fully hydrated. This activates gluten development.
8.30 am mix dough on low speed of your mixing machine for 2-3 minutes, or KitchenAid on speed 3 for 3-4 minutes until well incorporated.
Add salt, increase the speed till medium mix for about 5-7 minutes, until dough will start to come up together, will clear up the bowl, but still will stick to the bottom.
Note. Mixing until the dough is comes together is a very important step, we have to develop gluten carcass, so it can hold the butter.
After the gluten developed add soft butter, mix for 10-15 more minutes on medium to high speed of your mixing machine or KitchenAid on speed 4-5 until the dough comes up together and doesn't stick to the bottom.
Perform a windowpane test. Wet your hands and stretch the dough. You should be able to stretch it very thin, that's a sign of a well developed gluten, and that your final product will have a soft and light structure.
Cover and let it proof for 3-4 hours at 76-80F/ 24-28C.
During that time perform 2 stretches and folds. The dough should become slightly puffy.
1 pm transfer the dough to the fridge for cold fermentation till the evening.
9 pm Remove the dough from the fridge.
Roll it into a 9-by-17-inch rectangle. Spread with the filling (there's no need to leave borders).
Starting with a long side, roll into a tight coil. Transfer the coil onto a tray covered with parchment paper. Stick it in the freezer for 10 minutes.
Slice the dough in half lengthwise to expose the filling. Twist the halves together as if you are braiding them. Place it into a prepared baking/loaf pan covered with parchment paper, letting it curl around itself if it's a little too long for the pan.
Cover the pan.
Let it proof overnight on the counter till next morning (temp 22-24C/71-76F)
Note: if it's too hot in you'd kitchen, better transfer the babka to the fridge overnight for cold fermentation. In the morning let it proof at a warm temperature for 3-4 hours until it doubles in volume and bake.
Day 3
If babka was proofing on the counter by the next morning (6-7 am) it should be double in volume.
Preheat oven 375F
Egg wash the babka.
Bake 375F for 30-35 minutes, until golden brown.
Enjoy your chocolate sourdough babka 🙏