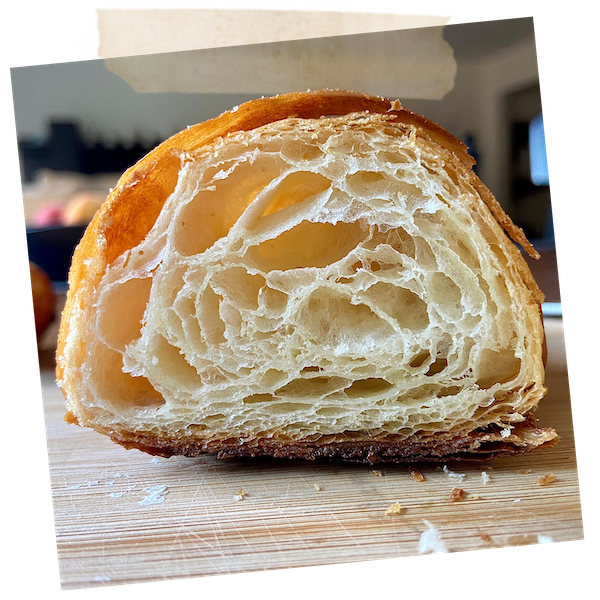 In order to make proper croissants you typically need 2 days. During the first day you make the dough and keep it in the fridge for at least 12 hours. On the second day you laminate the dough, shape croissants, then proof and bake them.
But if for some reason you need to speed up the process, here is a solution for you: same day croissants using both sourdough starter and yeast as a leavening agent.
Before we begin, here is a small observation and a note – when I was laminating the dough and rolling croissants on a hot summer day, when temperature in my kitchen went up to 27C/80F, I realized I had to move quicker, to prevent butter from melting. Hope that helps some of you!
Below you can find instructions and a video of the whole process.
Starter
7g ripe starter
35g flour
35g water
Night before set your levain:
mix everything, let ferment for 10-12 hours, until it will reach the peak. For the recipe you'll need 60g.

Main Dough
60g ripe starter (26%)
230g bread flour (protein 12-13%) (+ 20-30 g if needed) (100%)
74g water (32%)
64g milk (28%)
34g sugar (15%)
5g salt (2%)
3g instant yeast (1.3%)
11g butter (4.7%)
140g roll-in butter (pastry butter with 82% fat or more) (61%)
Mix water and milk, add yeast.
Add sourdough starter, sugar and flour.
Start mixing on medium speed for a couple of minutes, add salt, continue mixing.
Add soft butter. Continue mixing for 5-6 min. If the dough doesn't come up together, add 20-30g flour.
Continue mixing until it comes up together.
Cover, let it rest for 30 min.
Preform 2 stretches, 30 minutes apart.
Cover the dough in a plastic wrap and transfer to freezer for 30 minutes.
Then move the dough from the freezer to the fridge for 2 hours.
Meanwhile prepare butter for rolling (about 10cm each side), transfer it to chill in the fridge for 30 min before rolling.
---
Please note, butter shouldn't be too cold, or too warm:
If its cold, then during lamination, it will start to break into pieces
if its to warm it will melt in between layers
---
Remove the dough from the fridge. Roll it as a rectangular, big enough to place the butter block inside. (About 25cm x 15 cm).
Start rolling by pushing the butter from 1 side to another (lengthwise).
Cut the edges.
Fold the dough as a book.
Turn the dough 90 degrees, and continue rolling lengthwise. Cut the edges, fold it as a letter.
Cover, transfer it to the fridge for 1 hour.
Remove from the fridge.
Roll it in squares with sides about 23-25cm.
The thickness should be 4-5mm.
Cut the dough ( the base of croissant has to be 8cm).
Shape them and cover.
Let them proof for about 4-5 hours until they double in volume and become jiggly.
Egg-wash (mix one egg with 2 tbs of water).
Brush croissants with egg mixture.
Preheat the oven to 425F.
Bake croissants 10 minutes at 425F, lower the temperature to 375F and bake for 15 more minutes until golden brown.
Here is the video that provides a visual of the whole process.
Enjoy 🙌