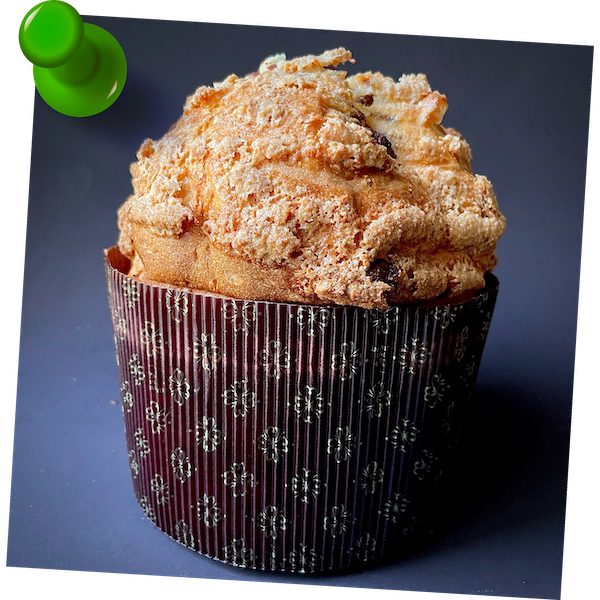 Panettone season is in full swing.
If you don't have sourdough starter or running out of time to work on your pasta madre, this yeast method recipe will be your life saver.
The final product has a super soft moist crumb, and it is full of flavor!
Ingredients
Aromatic Mix
Biga
375g strong flour 
185g water
5g fresh yeast or 1.5g dry instant yeast
First dough
100g sugar
80g yolk
90g soft butter
Second dough
1g fresh yeast or (0.3g instant dry yeast)
10g water
6g salt
20g yolks
40g sugar
40g soft butter
25g aromatic mix
300g inclusions (candied orange peel, raisins, chocolate chips)
Glaze
20g almond flour
40g sugar
10-12g egg whites
Directions
Night before
Prepare aromatic mix
Night before making the dough mix all the ingredients for aromatic mix and let them soak in the fridge overnight.
Night before
Prepare biga
Pour water into the bowl, dissolve yeast in it.
Add flour. Knead with your hands. Doughs has to remain lumpy.
Form a ball, do a cross shaped cut on top , cover the bowl with plastic wrap and let ferment for 12-14 hours at 72-74F
Next morning
First dough
Biga has to become bigger and lighter.
Using paddle attachment Start mixing biga with yolks on low speed for 2-5 min, then increase the speed to medium, continue mixing for 3-5 more minutes until all yolk will be incorporated and dough will start yo wrap around paddle.
Add sugar, continue kneading for 5-7 min, dough should be wrapping paddle.
Add soft butter, keep kneading on medium speed for 5-7 min until dough will wrap the paddle, and the bowl will become clean.
Dough has to become strong. Not sticky.
Note: important to not overheating the dough. Check the temperature, it has to be under 80F/27C. If it's getting too warm, put ice packs under the bowl during mixing.
Transfer the dough to container, cover and let ferment at 28-30C for 3-4 hours. During that time dough has to rise 3 times (3x)
When dough have risen, transfer it to the fridge for 30 min to chill.
Meanwhile measure all the ingredients for second dough.
Second dough
Dissolve yeast in water, set aside.
Mix first dough with flour on low speed for 3-4 minutes
Add sugar, knead on slow speed for 3-4 minutes. Dough should look strong and shiny.
Add yolks, increase the speed to medium, continue kneading for 2-3 minutes, until we'll incorporated.
Add aromatic mixture and salt, keep kneading 2-3 minutes. Dough should look stronger and wrap paddle attachment.
Add soft butter, keep kneading 3-5 min, until all butter will be incorporated, but dough will remain kind of sticky.
Then it's time to add water with yeast. Keep kneading for couple more minutes until all water will be incorporated and dough will become strong and the mixing bowl will become clear.
Then you can stop mixer and add inclusions (raisins, chocolate, orange peel). Turn mixer on and mix for another minute until all inclusions will be incorporated.
Note: keep monitoring the temperature of the dough. It shouldn't go higher 80F/27C
Preshaping and shaping
Turn the dough onto well buttered surface.
Divide the dough in 2 equal pieces.
Preshape each piece. Let rest uncovered for 20 min.
Meanwhile prepare panettone molds, and stick 2 wooden sticks closer to the edge(see the picture)
Note: The amount of the dough should be around 1200g. Which will be enough to fill 2 panettone molds (600g each)
Shape the dough, by rounding und tucking all edges under.
Transfer shaped panettone to a tray and let proof covered at 28-30C /82-86F for 3-4 hours until the dough will reach 2cm from the top of the mold.
Meanwhile prepare glaze by mixing all the ingredients
Preheat the oven 350F
Pipe the glaze on top of panettone.
Bake for 33-35 min, until internal temperature will reach 92C/197F
Remove panettone from the oven, turn it upside down, and let it hang upside down for stabilizing for 10-12 hours.
If you want to know how to prepare stiff starter (lievito madre) from liquid sourdough starter, how to properly mix the ingredients, or want to review detailed step by step panettone video instructions, please consider my Panettone for Beginners Course and Panettone Advanced Course.
Summary
Recipe Name
Panettone Recipe (Yeast Method)
Author Name
Published On
Preparation Time
Cook Time
Total Time
Average Rating
Based on 26 Review(s)