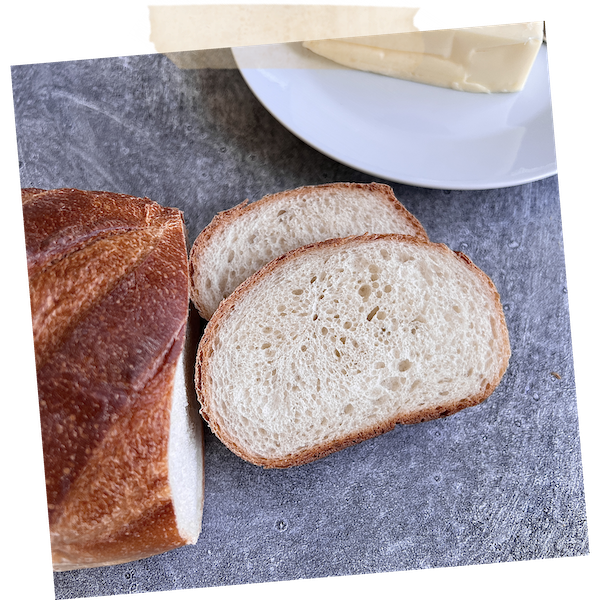 Baton bread was one of the most delicious breads from my childhood.
The most delicious sandwiches can be made with baton. It is super soft, has a creamy flavor.
Try it and you will love it.
Ingredients
Sourdough Sponge
Dough
all sourdough sponge on it's peak
250 g bread flour
10 g salt
30 g sugar
25g soft unsalted butter
30-40g water
Shiny glaze
1 tsp corn starch
2 tbs water
1 tsp sugar
1/2 cup hot boiling water
Directions
Day 1
Sponge
10 pm dissolve sourdough starter on it's peak in the water, add flour, mix well with spoon, cover let ferment at room temp 74-76F until it increases in volume in 2 or more times (learn how to make sourdough starter from scratch here).
Day 2
Dough
8 am By this time sponge should grew 2 times or more. In a bowl of stand mixer add all sponge, sugar, salt, flour.
Mix dough on low speed of your mixing machine for 5 minutes, or KitchenAid on speed 3 for 7 minutes until well incorporated.
Add soft butter, increase the speed of mixer, mix for 10 more minutes until the dough is well incorporated.
Note: if the dough seems too stiff, add 20g water, continue kneading. If it still too stiff, add 10-20g more.
The dough should come up together and have a smooth surface.
Cover the dough and let it proof for 3-4 hours at 78-86F/ 28-30C until double or more in volume.
Divide the dough in 2 equal pieces.
Shape each loaf as a batard, by folding 2 top edges to make a triangle top, then roll the top into itself, creating a tight roll.
Transfer the shaped loaves onto a tray, cover, and let them proof for 1-3 hours at 78-86F/28-30C until double or more in volume.
Preheat the oven to 450F and cast iron pan for at least 30 minutes
Score the loaves, bake them for 10 min with steam (or with lid on).
Lower the temperature to 400F open the lid, bake for 20 more minutes, until golden brown.
Meanwhile prepare the shiny glaze by mixing cornstarch, water and sugar together. Then add hot boiling water and mix until no lumps remain.
Remove the bread from the oven.
Generously spread the shiny glaze all over your loaves.
Let the bread cool down.
Enjoy!
Summary
Recipe Name
Russian Baton Bread with Sourdough
Author Name
Published On
Preparation Time
Cook Time
Total Time
Average Rating
Based on 16 Review(s)