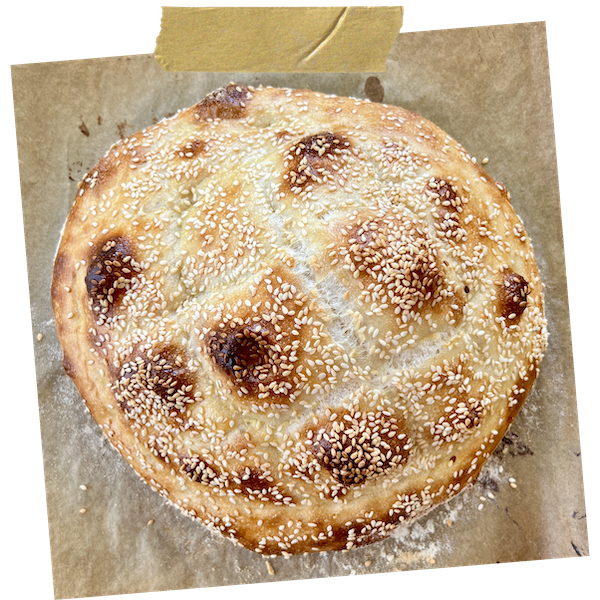 I was very intrigued seeing the process of making Turkish pita online. The process proved to be exciting, and the bread itself exceeded all of my expectations because of its softness and light texture. It is a great addition to any meal. Thank you Maya for the recipe and inspiration!
| | |
| --- | --- |
| Ready in: 5-6 hours | Serves: 4-6 people |
| Yield: 2x400g pitas | Units: US, EU |
Ingredients
Sourdough Starter
I always feed starter with 90% all purpose flour and 10% rye. Which makes it nice and strong.
Please note, summertime ratio for overnight feeding is higher (1:10:10) compared to wintertime( 1:6:6), because of the temperature difference. Depending on the strength of the starter, you can change the ratio.
Learn how to make starter from scratch here.
Main Dough
60g sourdough starter
320g bread flour
230g water
30g melted butter
9g salt
1g dry yeast
1 tbs honey
Topping
1 tbs of plain yogurt
2 yolks
sesame seeds fir dusting
Directions
Night before
10 pm add starter to the water and whisk together, add flour, mix well, cover loosely, let sit at room temp 70-75F till next morning until it reaches the peak (10-12 hours), it should at least double (starter isn't strong enough), or triple in size(strong starter).
Next morning
8 am mix water, honey, salt,with yeast and sourdough starter until dissolved add flour, and melted butter, mix all together, until no dry flour remained, cover, let rest 30 min for autolyse (during the autolyse stage the flour absorbs the water, becoming fully hydrated. This will activate gluten development). Dough will look sticky, but don't worry it will come up together with following folds.
8.30 am. Perform nice stretch and fold, round the dough(it should become less sticky)and let rest covered at 74-76F/23-24C for 30 min.
9 am perform 2st coil fold. Round the dough, cover and let rest for 30 min.
9.30 am 3rd coil fold. Round the dough, cover and let rest for 1 hour.
10.30 am 4th coil fold. Round the dough, cover and let rest for 30 min.
Note: by the time when 4th coil folding will be done, dough has to look nice and smooth with visible signs of fermentation. If not, perform another folding in a 30 min.
Sprinkle work surface with semolina flour.
Dump the dough on a work surface, divide in 2 pieces, round each piece and make sure they are generously covered with semolina flour(this will help to prevent sticking.
Place each dough on a separate piece of parchment paper.
Cover, let proof for 1-2 hours.
Dough has to get bigger and puffier.
Preheat oven to 475F
Prepare the topping by mixing yogurt with egg yolks.
Pour yolk mixture on top of the dough. Spread it around with your hand.
Poke the dough with your fingers, by creating a circle around the edges, and then by making parallel lines all over the surface of your pita.
Turn on its 90 degrees and made another set of parallel lines, creating squares.
Sprinkle sesame seeds on top of each pita.
Note: make sure to press the dough with your fingers deep enough (don't afraid to make some holes). Because if dough won't be pressed enough, pita will get puffy as balloon, and no pattern will remain visible.
As soon as you will transfer pitas to the oven, lower the temperature to 350F.
And bake pitas until golden brown for 20-25 min.
Enjoy!
Summary
Recipe Name
Turkish Pita (Hybrid Method)
Author Name
Published On
Preparation Time
Cook Time
Total Time
Average Rating
Based on 13 Review(s)