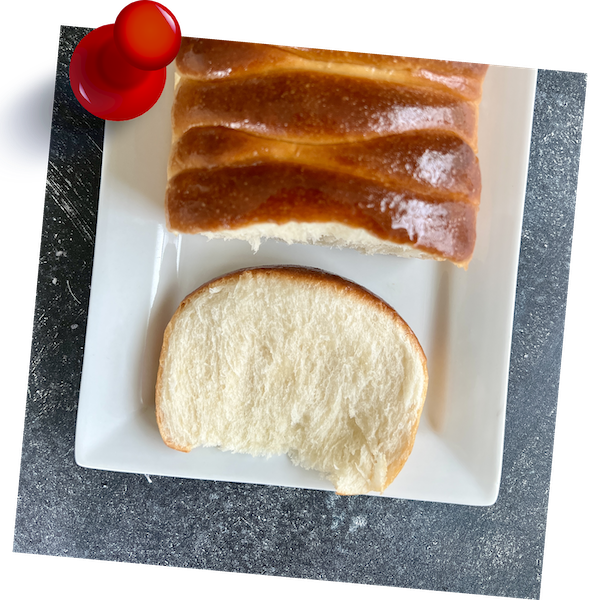 I've baked and tried many types of sweet soft breads, but I think I have finally found my absolute favorite one and it is called Pai Bao.
It is soft as a cloud, sweet, and shreds like a string cheese. Unbelievable 😉
Thank you Christine for this amazing recipe.
Ingredients
Sourdough starter
Tangzhong
Dough
370g bread flour
70g sourdough starter
200g milk
65g sugar
1 egg yolk
12g dry milk powder
30g sweetened condensed milk
8g salt
40g soft unsalted butter
1g of instant dry yeast (optional)
Shiny glaze
Directions
Day 1
Starter
10 pm add starter to the water and whisk together, add flour, mix well, cover loosely, let it sit at a room temp 74-78F for about 8-10 hours until starter reaches its peak (at least triples in volume).
Learn how to make starter from scratch here).
Tangzhong
Tangzhong is a method of mixing bread flour and milk over medium heat. This process helps to gelatinize the starch. Which provides super soft texture to the bread.
Mix flour and milk in sauce pan , cook it over medium heat, continue mixing until thick paste will be formed. Cover and let cool down before use in the dough.
Day 2
Dough
8 am in a bowl of mixer add milk, sourdough starter, tangzhong, dry instant yeast (if using), sugar, dry milk powder, egg yolk, condensed milk and whisk all together. Add flour, mix until no dry flour remains.
Start mixing the dough on low speed of your mixing machine for 2-3 minutes, or KitchenAid on speed 3 for 3-4 minutes until well incorporated.
Add salt and mix for a couple more minutes. The dough should start to form a ball.
Add soft butter, mix for 10-15 more minutes on high speed until the dough is well incorporated and comes up together and the mixing bowl will become clean.
Cover and let it proof for 3-4 hours at 76-80F/ 24-28C.
During that time perform 2 stretches and folds.
The dough should become puffy.
11-12pm transfer the dough to the fridge for cold fermentation until the evening (for 8-9 hours).
9 pm remove the dough from the fridge.
Divide in to 16 pieces (about 55g each).
Round each piece in a ball, let rest covered 5-7 min.
Then roll each ball into a strip and roll each strip into a tight roll (I used a 9×5 inch pan so the length of each dough roll was 5 inches to fit into the pan).
Place the rolls into the loaf pan tightly, like shown on the picture.
Cover the dough and let it proof for overnight ( for 8-9 hours) at 70-72F /20-22C until it doubles in volume.
Day 3
7am preheat the oven to 375F.
Bake pai bao bread for 15 min, lower temperature to 350F, bake for another 12-14 min until golden brown.
While bread is baking prepare shiny glaze, by mixing 1 tbs of honey and 1 tbs of water.
Remove bread from the oven, spread the shiny glaze on top of the bread while it is still hot.
Let your Pai Bao cool down and enjoy!
Summary
Recipe Name
Pai Bao (Hong Kong Sweet Bread)
Author Name
Published On
Preparation Time
Cook Time
Total Time
Average Rating
Based on 8 Review(s)