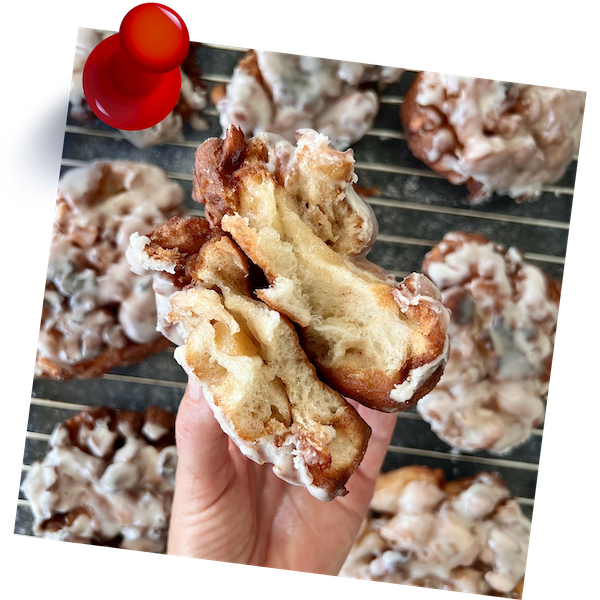 I'm celebrating this year's apple picking season with these delicious apple fitters.
My family loved them so much, so I had to make them twice in a row.
I used dry instant yeast for this dough recipe but if you're looking for sourdough version of a dough you can find it here.
Ingredients
Dough
300g bread flour
150g milk
1 whole egg+1 egg yolk
55g soft butter
30g sugar
5g salt
Vegetable oil for frying
Apple Filling:
4 medium granny smith apples
20g butter
2 tbs brown sugar
1 tbs lemon juice
2 tbs cinnamon
2 tbs flour for dusting
Glaze
2 cups of powdered sugar
1/3 cup of melted butter
1/2 tsp vanilla extract
5-6 tbs hot boiling water
Directions
Dough
8 am combine milk with dry instant yeast and whisk until dissolved. Add egg and egg yolk, flour, sugar, mix to hydrate all flour, let the dough autolyse for 30 minutes.
During the autolyse period the flour becomes fully hydrated. This process activates gluten development.
8.30 am mix the dough on low speed of your mixing machine for 2-3 minutes, or KitchenAid on speed 3 for 3-4 minutes until well incorporated.
Add salt and mix for a couple more minutes. The dough should form a ball.
Add soft butter, increase the speed, mix for 10-15 minutes until the dough comes up together. If its not coming up together, feel free to add a little more flour (10-20g).
9 am cover the dough and let it proof for 2-3 hours at 76-80F/ 24-28C.
During that time perform 2 stretches and folds.
Apple filling
Peel, core and quarters apples, then dice them into 1/2-inch pieces.
Melt butter in a skillet, add apples, lemon juice and sugar.
Stir to combine, heat over medium heat until apples are softened and most of the moisture disappears, about 5 minutes. Add cinnamon, mix until all combined.
Remove the apples to a bowl, to cool for a bit.
Shaping
The dough should become bigger and puffy.
12 pm sprinkle work surface with flour and dump proofed dough on it.
Release the dough from container. Roll it into 8×15 inches rectangular.
Spread cooked apples all over the dough. Sprinkle more cinnamon on top and 2 tbs of flour. (Flour will help to bind the apples and the dough together)
Using bench scraper, cut filled dough into small 1/2 inch pieces.
Divide all into 8 equal portions. Press each fritter together so it won't fall apart in the fryer.
Place fritters on parchment paper.
Cover and let proof for 1 hour at 76-80F.
Preheat oil up yo 375F.
Add two or three fritters to the hot oil and fry 1 minute per side. Remove from oil and drain on paper towels.
Glaze
Whisk all ingredients together adding more hot water if needed to get the consistency you want.
Dip the top of each apple fritter into the glaze and place onto a cooling rack to let it drip down.
Enjoy 😉
Summary
Recipe Name
Author Name
Published On
Preparation Time
Cook Time
Average Rating
Based on 3 Review(s)