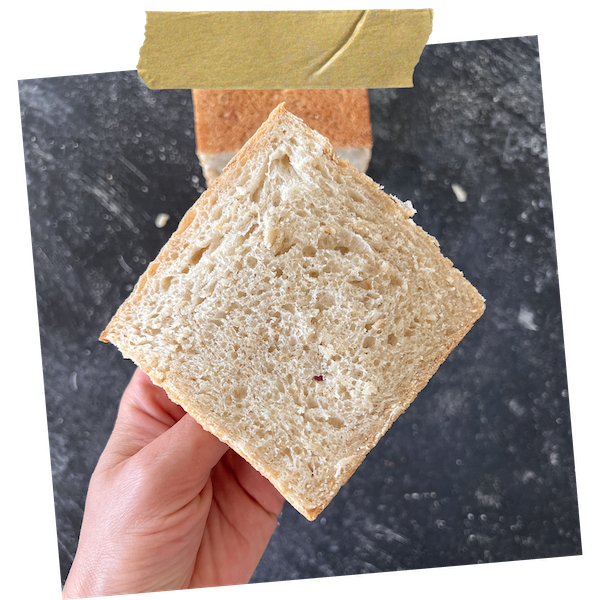 It's back to school time. And sometimes there's absolutely no time for long fermentation and breads made with sourdough starter.
This quick oatmeal sandwich bread, will save you some time. And it provides an opportunity to sneak in more nutrients into a sandwich made for your kiddos!
Ingredients
Dough
280g lukewarm milk
3g dry instant yeast
9g salt
40g sugar
30g soft unsalted butter
360 g bread Flour
90g old fashioned oats
Coating
1/4 cup or rolled oats
Directions
Dough
In a bowl of stand mixer add lukewarm milk, sugar, salt, oats and flour.
Mix dough on low speed of your mixing machine for 5 minutes, or KitchenAid on speed 3 for 7 minutes until well incorporated.
Add soft butter, increase the speed of mixer, mix for 10 more minutes until the dough is well incorporated.
Note: if the dough seems too stiff, add 20g water, continue kneading. If it still too stiff, add 10-20g more. The dough should come up together and have a smooth surface.
Cover the dough and let it proof for 1-2 hours at 78-86F/ 28-30C until it doubles or more in volume.
Shape loaf as a tight roll.
Sprinkle dough with some water on top and roll it into oats (this step is optional).
Transfer the shaped loaf into a loaf pan (9×5 inch), or i was using 2 cube loaf pans, cover the dough, and let proof for 1-2 hours at 78-86F/28-30C until double or more in volume.
Preheat the oven to 375F.
Bake the bread for 10 min, lower temperature to 350F and continue baking for 20 more min.
Enjoy!
Summary
Recipe Name
Quick Oatmeal Sandwich Bread
Author Name
Published On
Preparation Time
Cook Time
Total Time
Average Rating
Based on 7 Review(s)