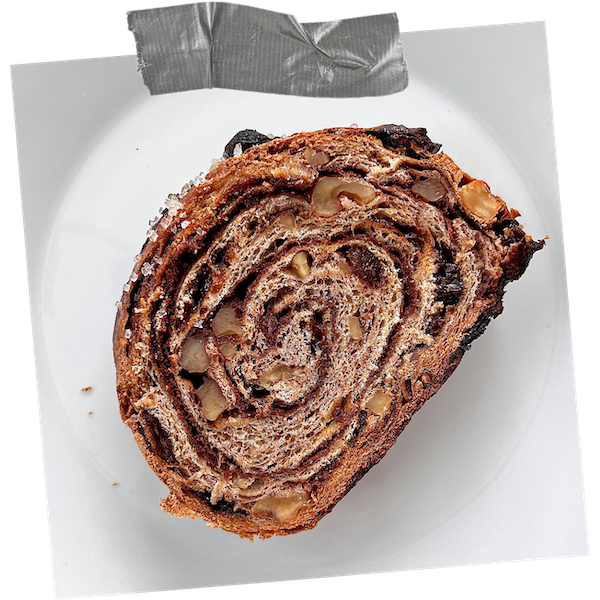 CAUTION! Cinnamon walnut raisin bread made with sourdough starter is extremely addictive 🙂
It is rich and full of flavor, very nutritious with perfectly balance sweetness.
You can spread some butter on top of a slice, or eat it as is. Also it makes the best French toast!
Ingredients
Sourdough Starter
Dough
200g bread flour (50%)
200g stone ground whole wheat flour (50%)
240g water (60%)
100g starter (25%)
8g salt (2%)
20g sugar (5%)
20g soft butter (5%)
120g chopped walnuts
80g raisins
Coaster sugar to sprinkle the loaf
Filling
20g cinnamon
60g sugar
Water to spray the dough
Directions
Starter
10 pm add starter to the water and whisk together, add flour, mix well, cover, let sit at room temp 74-78F until in about 8-10 hours starter reaches its peak (triples or more in volume).
Learn how to make starter from scratch here.
Dough
8 am mix water with sugar, add sourdough starter and flour, mix on low speed of your mixing machine for 2-3 min, or with KitchenAid on speed 3 for 5-6 minutes until well incorporated and gluten will get stronger. The dough should come up together, add salt, continue kneading for couple more minutes then add soft butter. Keep kneading for 3-5 more minutes until all butter will be incorporated and dough will wrap the hook.
Add chopped walnuts and raisins, continue kneading for couple more minutes until all inclusions will be incorporated.
8.30 am Round the dough and let it proof for 3-4 hours at 76-80F24/28C. Perform 2 stretches and folds every 2 hours. Dough has to become puffier and show signs of fermentation.
12 pm Cover the dough and move to fridge for cold fermentation for 9-12 hours or overnight.
Prepare the filling by mixing sugar and cinnamon together.
9 pm or next morning remove the dough from the fridge.
Roll it into a 9-by-17-inch rectangle.
Spray the dough with water then spread the filling evenly all around the dough, leave 1 Inch border.
Generously spay the cinnamon filling with water.
Starting with a short side, roll the dough into a tight log. Pinch seam together. Transfer the log onto a tray covered with parchment paper seem side down.
Let the loaf to proof overnight at 68-70F/20-21C until double or more in volume. Or, if you pulled the dough from the fridge in the morning, please follow previous step and let the dough proof at 76-80F/24-28C for 4-6 hours until double or more in volume.
Preheat the oven 480F with oval cast iron pan in it or baking stone for 30-40 minutes.
When loaf is done proofing, to get rid of air pockets use a wooden stick(or something sharp) to pock a holes alongside of the loaf, 4 times at each side.
Using scoring knife make 4 straight cuts on top of the loaf.
Bake the loaf with steam 10 min (to create steam close the lid of your cast iron pan or create steam by pouring ice cubes into a tray, that was placed under the baking stone)
Lower the temperature to 365F and continue baking for 30 more minutes.
Spray the hot loaf with water and sprinkle coarse sugar on top.
Continue baking for 15-20 more minutes, until the bread will get nice and brown color.
Enjoy!
Summary
Recipe Name
Cinnamon Walnut Raisin Bread with Sourdough Starter
Author Name
Published On
Preparation Time
Cook Time
Total Time
Average Rating
Based on 8 Review(s)