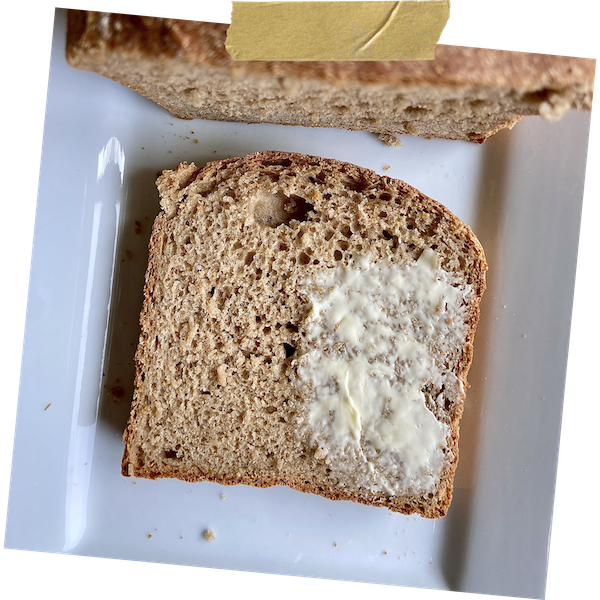 My family is addicted to rye bread. And I always explore new ways to incorporate rye flour into breads I bake. Today i want to share a great discovery. This recipe was adapted from the King Arthur website, but of course I converted it into a sourdough version. Here is the soft rye sourdough sandwich bread recipe.
Ingredients
Sourdough Starter
Dough
217 g water (62%)
105g Rye flour (30%)
245g bread flour (70%)
70g of starter (20%)
14g brown sugar (4%)
28g molasses or dark honey(8%)
14g dry milk (4%) optional
7g salt (2%)
0.5g yeast ( optional, to speed up the process)
21g soft butter (6%)
Directions
Day 1
Starter
10 pm add starter to the water and whisk together, add flour, mix well, cover loosely, let it sit at a room temp 74-78F for about 8-10 hours until starter reaches its peak (at least triples in volume).
Day 2
Dough
Mix water, flour, sugar, honey or molasses, sourdough starter (70g on its peak, the rest use for future feedings), salt and all flour.
Mix the dough on low speed of your mixing machine for 3-5 minutes, or KitchenAid on speed 3 for 7-9 minutes until well incorporated.
Add soft butter or oil, mix for 10-15 more minutes until the dough is well incorporated. It will look sticky at the beginning (since rye flour doesn't have as much gluten as regular flour) but eventually the dough has to come up together.
Cover and let it proof for 2-3 hours at 78-84F/ 26-30C.
During that time perform 2 stretches and folds.
The dough should become puffy.
Generously sprinkle work surface with rye flour. Dump the dough.
Shape as desired. I rolled it into a  roll same length as a baking/loaf pan. 
Transfer the shaped loaf into the loaf pan.
Cover the dough and let it proof for 2-3 hours at 78-84F/ 26-30C until it doubles in volume.
Preheat oven to 375F.
Bake for 35 min until golden brown.
Summary
Recipe Name
Soft Rye Sourdough Sandwich Bread
Author Name
Published On
Preparation Time
Cook Time
Total Time
Average Rating
Based on 12 Review(s)