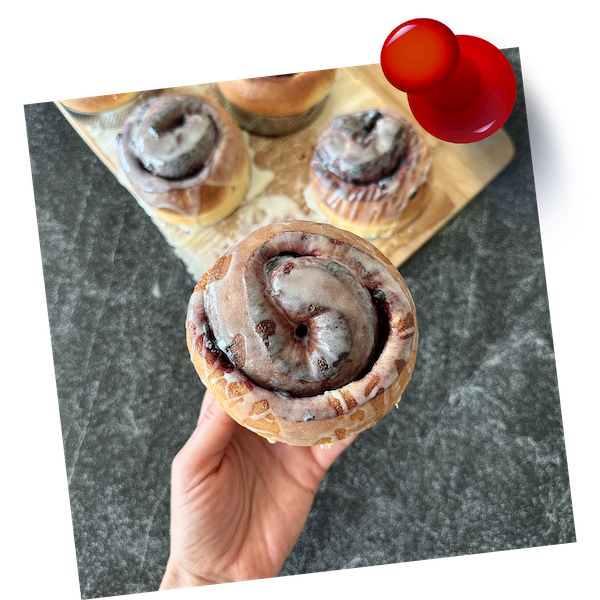 The dough I made for sweet rolls with blueberry filling is very versatile and can be used for any kind of sweet rolls with different types of filling (cinnamon, cardamom, fruit filled, sticky buns) or even babka.
Also it works perfect with sourdough starter or made just with instant yeast.
I made these sweet rolls filled with homemade wild blueberry filling. Please see the recipe below.
Ingredients
Stiff Sourdough starter
Tangzhong
20g bread flour
100g hot boiling water
Dough
360g bread flour
60g stiff starter
140g milk
1 large egg
75g g soft butter
50g sugar
7g salt
20g carrot juice ( for yellow color, optional)
0.5g dry instant yeast (optional to reduce sourness) if not using sourdough starter use 4g dry instant yeast)
Blueberry filling
250g frozen or fresh wild blueberries
80g sugar
Zest of 1 lemon
Juice of 1/2 lemon
1 tbs cornstarch mixed with 1 tbs sugar
Directions
Day 1
Starter
10 pm add starter to the water and whisk together, add flour, mix well, form a ball, then roll it into a tight roll, place in a jar, let ferment at room 72-74F until it increases in volume about 2-3 times.(learn how to make sourdough starter from scratch here).
Prepare tangzhong by boiling ingredients over medium heat, until thick paste will form, cover and let cool down until next morning.
Day 2
Dough
8 am mix starter, tangzhong,milk, egg, flour, sugar, yeast (if using),carrot juice ( if using)let it autolyse for 30minutes.
During the autolyse period the flour becomes fully hydrated. This process activates gluten development.
8.30 am mix the dough on low speed of your mixing machine for 2-3 minutes, or KitchenAid on speed 3 for 3-4 minutes until well incorporated.
Add salt and mix for a couple more minutes. The dough should form a ball.
Add soft butter, increase the speed, mix for 10-15 minutes until the dough comes up together. If its not coming up together, feel free to add a little more flour (10-20g).
9 am cover and let the dough proof for 3- 4 hours at 76-80F/ 24-28C.
During that time perform 2 stretches and folds.
The dough should become slightly puffy.
Note: if using only instant yeast, fermentation will take about 2 hours, until the dough will get bigger.
12 pm transfer the dough to the fridge for cold fermentation until next morning.
Filling
Mix frozen blueberries and sugar, over medium high heat, add lemon zest and lemon juice, let it simmer, until all juices will start bubbling.
Mix 1tbs sugar and 1tbs cornstarch add to a blueberry mixture, cook until filling will get thicker.
Let cool off, store until needed.
Shaping
7 am sprinkle work surface with flour. Release the dough from container. Roll it into 15×15 inches rectangular.
Spread evenly blueberry filling.
Roll into a tight roll.
Divide the roll into 2 inch pieces.
Place each roll into a baking tray covered with parchment paper. You can use tart rings to keep rolls round.
Let them proof about 1-2 hours, until doubled in volume.
Bake at 375F for 22-25 min until light golden brown.
Let cool down, spread cream cheese icing or white icing on top.
Enjoy!
Summary
Recipe Name
Sweet Rolls with Blueberry Filling
Author Name
Published On
Preparation Time
Cook Time
Total Time
Average Rating
Based on 5 Review(s)