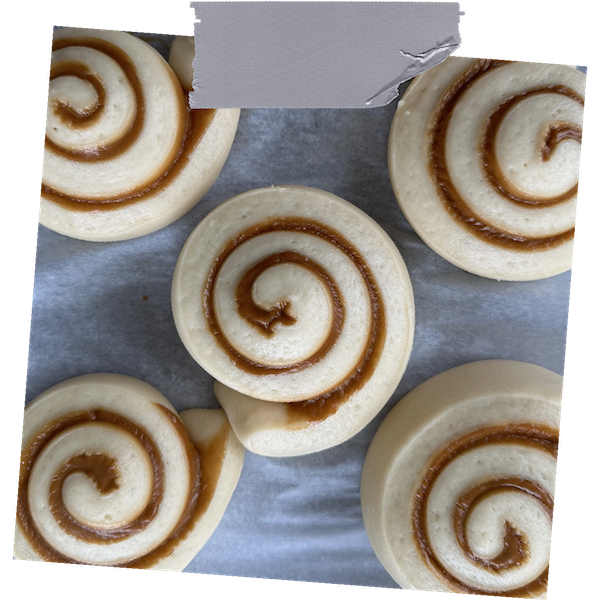 When I need to fix something quick but really good, I use this sweet rolls recipe. These rolls have never disappointed, they are rich, sweet, soft, and simply irresistible. You can use this dough with any kind of filling and make cinnamon rolls or sticky buns, or just use the Biscoff cookie butter spread and it will be a wonderful dessert!
If you are looking for sourdough version, I have included it in my Sourdough Baking With Kids book.
Ingredients
Dough
230g lukewarm milk
80g sugar
1 large egg
500 g bread flour, plus more for dusting
90g unsalted butter at room temperature
10g salt
Cream cheese icing
Directions
Dough
8 am in a mixing bowl, combine all the ingredients (except salt and butter) for the dough together. Mix the dough on low speed of your mixing machine for 2-3 minutes, or KitchenAid on speed 3 for 3-4 minutes until well incorporated.
Add salt and mix for a couple more minutes. The dough should form a ball.
Add soft butter, increase the speed, mix for 10-15 minutes until the dough comes up together.
8.30 am cover the dough and let it proof for 2-2.5 hours at 76-80F/ 24-28C.
During that time perform 1 stretch and fold.
The dough should become puffy.
11 am move the dough to fridge for at least 2 hours, or until next day.
1 pm remove the dough from fridge, sprinkle work surface with flour, roll the dough in a rectangular with sides about 20×12 inch/50 x 30 cm and about 0.2 inch/ 0.5 cm thin.
Spread filling all over the dough surface. Then start to roll the dough tightly, forming a roll.
Cut the toll into 1-1.5 inch/3-4cm thick rolls.
Preheat the oven to 375F. Bake sweet rolls for 10 min, then lower temperature to 350F and continue baking for 15-18 min, until golden brown.
Meanwhile prepare the icing by mixing all ingredients together.
Spread icing on top of warm rolls.
Enjoy!
Summary
Recipe Name
Author Name
Published On
Preparation Time
Cook Time
Total Time
Average Rating
Based on 8 Review(s)