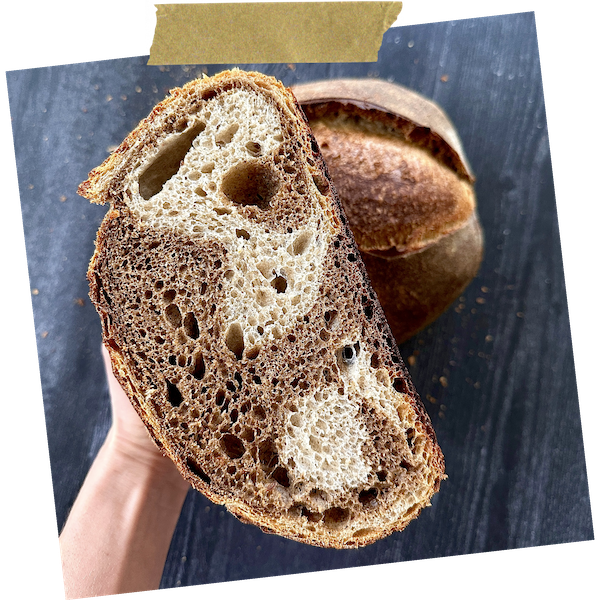 Here is a great marble rye sourdough bread recipe. I love the texture, flavor and fun swirls. And most importantly – it is perfect for Reuben sandwiches.
And also, this bread can be baked the same day.
Ingredients
Rye Sourdough Starter
Main Dough
Directions
Day 1
190g rye sourdough starter
400g bread flour
267g water
10g salt
20g rye dark malt +30g hot boiling water
caraway seeds optional
3g dry instant yeast
Rye Sourdough Starter
10 pm add starter to the water and whisk together, add rye flour, mix well, cover loosely, let it sit at room temperature 74-78F until in about 8-10 hours starter reaches its peak (doubles or triples in volume). You can learn how to make starter from scratch here.
Day 2
Main Dough
8 am mix all water, sourdough starter and salt, dry instant yeast, knead in a mixer mixer until well gluten developed and dough comes up together, about 15 min on medium high speed.
Pour hot boiling water over dark rye malt, mix, let cool down.
Divide the dough into 2 even pieces. One place in a bowl and cover. Another place in a mixing bowl, add soaked rye malt mixture and knead for 5-7 min on medium high speed, until well incorporated and strong gluten development.
8.30 am Let both doughs proof for about 2 hours. They has to become puffy.( if not using dry instant yeast, fermentation might take up yo 4 hours).
Sprinkle work surface with flour, spread light and dark dough pieces into a two rectangular.
Place one on another and roll into a tight roll.
10.30am Transfer the roll into a proofing basket seam side up, and let ferment for about 1 hour, until slightly bigger
Preheat oven yo 480F with Dutch oven inside.
Flip the loaf onto a parchment paper, score with two slashes.
11.30 am Transfer the dough on to the hot Dutch oven pan, cover with the lid (to create steam for a beautiful and crispy crumb).
Bake at 480F for 10 minutes with the lid on.
Remove the lid, lower the temperature to 450F and bake for 30 more minutes until brown.
Enjoy!
Summary
Recipe Name
Marble Rye Sourdough Bread
Author Name
Published On
Preparation Time
Cook Time
Total Time
Average Rating
Based on 5 Review(s)