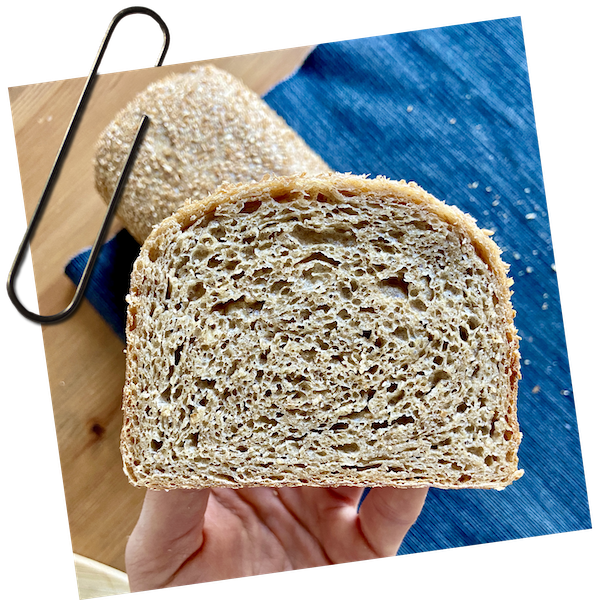 If your New Year's resolution was to eat healthy or if you are just particular about your bread ingredients, this whole wheat sourdough sandwich loaf is a perfect way to add more grains and nutrients to your daily diet.
Here is the recipe.
Ingredients
Sourdough Starter
Oatmeal Soaker
50g rolled oats
240g hot boiling water
Dough
300g whole grain whole wheat flour (100%)
60g water (20%)
30g melted butter or oil without flavor (10%)
30g honey (10%)
250g porridge or soaker 
60g of levain (20%)
6g salt (2%)
Directions
Day 1
Starter
10 pm add starter to the water and whisk together, add flour, mix well, cover loosely, let it sit at a room temp 74-78F for about 8-10 hours until starter reaches its peak (at least triples in volume).
Soaker
10 pm boil water, pour the boiling water over the oats, cover it, let it soak until next morning.
Day 2
Dough
8 am mix water, flour, honey, sourdough starter (60g on its peak, the rest use for future feedings), all the soaker, let it autolyse for 1 hour.
During the autolyse process the flour becomes fully hydrated. This activates gluten development.
9 am mix dough on low speed of your mixing machine for 2-3 minutes, or KitchenAid on speed 3 for 3-4 minutes until well incorporated.
Add salt, mix for a couple more minutes. Add melted butter or oil, mix for 10 more minutes until the dough is well incorporated and comes up together.
Cover and let it proof for 3-4 hours at 76-80F/ 24-28C.
During that time perform 2 stretches and folds.
The dough should become slightly puffy.
1 pm transfer the dough to the fridge for cold fermentation for 4-8hours
10 pm Remove the dough from the fridge.
Shape as desired. I rolled it into a long roll same length as a baking/loaf pan.
Also you can roll the dough into wheat bran.
Transfer the shaped loaf into the loaf pan.
Cover the dough and let it proof for 8-10 hours at 70-72 F /20-22C until it doubles in volume (usually it's ready by the next morning).
Day 3
6-7 am dough has to double or more in volume.
Preheat oven to 375F.
Bake for 35 min until golden brown.
Enjoy your whole wheat sourdough sandwich loaf.