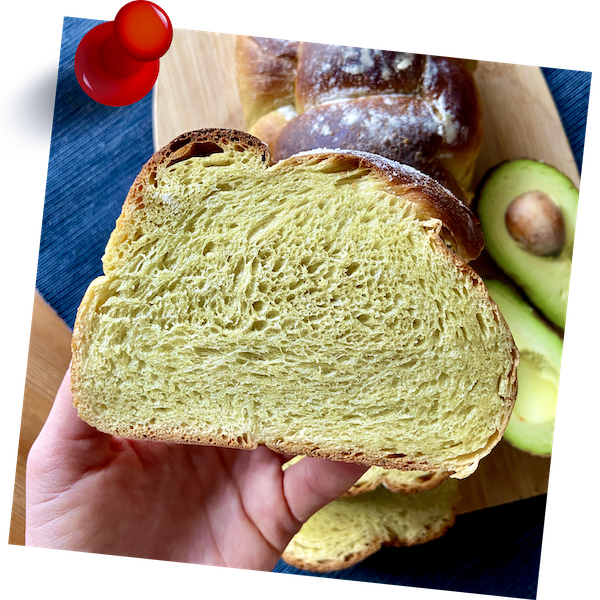 I couldn't believe how good avocado brioche sourdough loaf turned out. Why didn't I try to add avocado as an enrichment to my sandwich loafs before? It gives so much moisture, softness and flavor to the bread.
Don't wait… start making it right away! It tastes good plain or with butter, or some hazelnut spread. I promise, you'll love it!
Ingredients
Stiff Sourdough Starter
10g sourdough starter
30g water
60g bread flour
Dough
300g bread flour (100%)
100g ripe avocado
1 tsp lemon juice
50g milk
1 large egg
30g soft butter (10%)
60g stiff starter (20%)
6g salt (2%)
0.5 g dry yeast (optional, to reduce sourness)
Directions
Day 1
Starter
10 pm add starter to the water and whisk together, add flour, mix well, form a ball, then roll it into tight roll, place in jar, cover with water, make sure it is covered with water, let sit at room temp 74-78F until it increases in size and starts to float on the top of the water.
In about 8-10 hours the top of the starter will dry and the bottom will start to melt in water. We will need the center part of it.
Keeping stiff starter in the water will help to reduce its acidity and sourness of final product (learn how to make starter from scratch here).
Day 2
Dough
8 am cut fresh ripe avocado, add it to the food processor along with lemon juice, sweetened condensed milk, regular milk and an egg. Purée it all together.
Note: if you are planning to use dry yeast, add it to the food processor as well.
Add purée and stiff sourdough starter to a flour.Mix dough on low speed of your mixing machine for 2-3 minutes, or KitchenAid on speed 3 for 3-4 minutes until well incorporated.
Add salt mix for a couple more minutes. The dough should form a ball and seems kind of stiff.
Add soft butter, mix for 10 more minutes until the dough is well incorporated and comes up together.
Cover and let it proof for 3-4 hours at 76-80F/ 24-28C.
During that time perform 2 stretches and folds.
The dough should become slightly puffy.
12pm -1 pm transfer the dough to the fridge for cold fermentation till the evening (for 8-9 hours).
10 pm remove the dough from the fridge.
Shape as desired. I used a glass loaf pan with dimensions 16.6×2.5×9.8 inches.
You can divide the dough into 3 or 4 pieces, and braid it.
Put a sheet of parchment paper on the bottom of your loaf pan.
Transfer the shaped loaf into the loaf pan.
Cover the dough and let it proof overnight ( for 8-9 hours) at 70-72F /20-22C until it doubles in volume.
Now, sprinkle some flour on top of your loaf or egg wash it.
Preheat the oven to 375F.
Bake for 35-40 minutes until golden brown.
Enjoy your avocado brioche sourdough loaf.