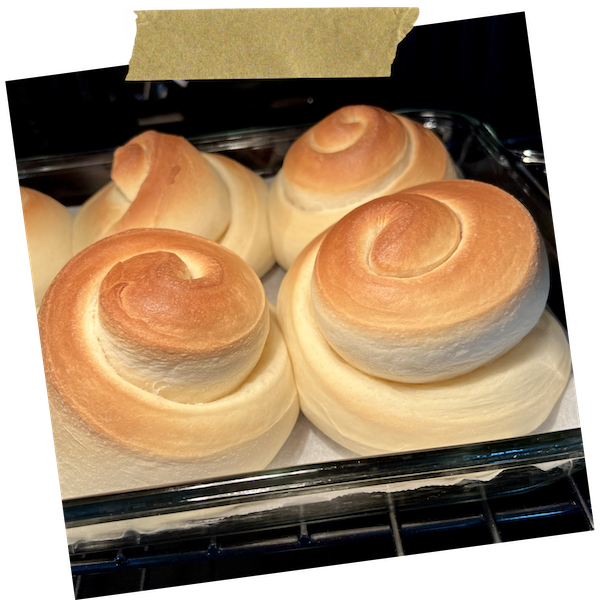 I always explore new recipes. The most interesting ones to me are the authentic recipes from different countries.
A very talented chef Javi Martinez, was generous enough to share a recipe of Soft Puerto Rican sweet rolls called Mallorca.
I've baked many soft and sweet breads and rolls before, but this bread stole my heart. It is super soft, moist and sweet, perfect for breakfast or dessert. I turned it into a sourdough version with by adding stiff sourdough starter, but original version of this recipe was made with dry instant yeast. If you will plan to go with yeast version, just use 1% dry instant yeast from the total amount of flour in the recipe.
Thank you, Javi, I am in love with this recipe now.
Ingredients
Stiff Sourdough starter
Dough
340g bread flour
60g stiff starter
125g milk
125g water
3 egg yolks
55g soft butter
90g sugar
7g salt
0.5g yeast (optional) to reduce sourness
Spread 
Dusting
Directions 
Day 1
Starter
10 pm add starter to the water and whisk together, add flour, mix well, form a ball, then roll it into a tight roll, place in a jar, cover with water, make sure it is covered with water, let sit at room temp 74-76F until it increases in size and starts to float on the top of the water.
In about 8-10 hours the top of the starter will dry and the bottom will start to melt in the water. We will need only the center part of it.
Keeping stiff starter in the water helps to reduce its acidity and sourness of the final product (learn how to make starter from scratch here).
Day 2
Dough
8 am mix starter, milk, egg yolks, flour, sugar, yeast (if using), let it autolyse for 30minutes.
During the autolyse period the flour becomes fully hydrated. This process activates gluten development.
8.30 am mix the dough on low speed of your mixing machine for 2-3 minutes, or KitchenAid on speed 3 for 3-4 minutes until well incorporated.
Add salt and mix for a couple more minutes. The dough should form a ball.
Add soft butter, increase the speed, mix for 10-15 minutes until the dough comes up together. If its not coming up together, feel free to add a little more flour (10-20g).
9 am  cover and let it proof for 3- 4 hours at 76-80F/ 24-28C.
During that time perform 2 stretches and folds.
The dough should become slightly puffy.
12 pm transfer the dough to the fridge for cold fermentation until next morning.
7 am sprinkle work surface with flour. Release the dough from container. Roll it into 8×15 inches rectangular.
Cut the dough into a 6 stripes along the length.
Generously spread melted butter all over each strip.
Roll each stripe into a tight roll and hide the tail under.
With a palm of your hand press each roll down, and transfer to a baking tray, lined with parchment paper.
Cover and let them proof for 2-4 hours until bigger and puffier. 
Preheat oven 375F.
Bake Mallorcas for 10 min at 375F, then lower temperature to 350F and bake for 10-15 min more until top will get golden brown.
When Mallorcas are done, remove them from the oven, let them cool down and generously sprinkle them with powdered sugar.
Enjoy!
Summary
Recipe Name
Mallorca Bread: Soft Puerto Rican Sweet Rolls
Author Name
Published On
Preparation Time
Cook Time
Total Time
Average Rating
Based on 8 Review(s)