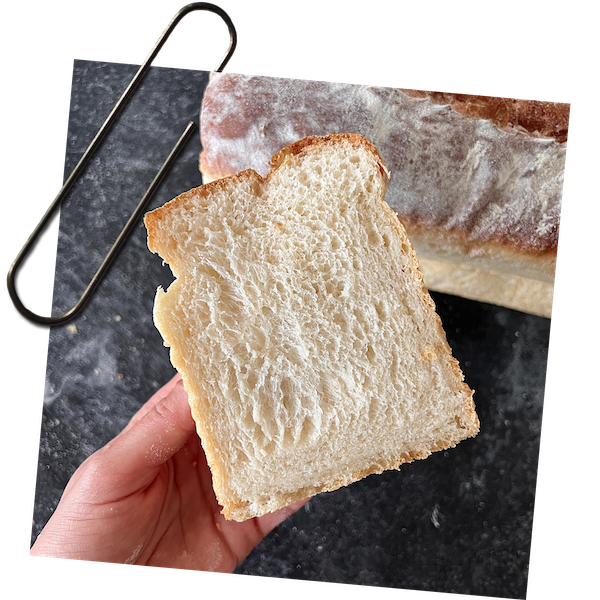 When bakers add potato to any kind of bread, not only it makes the final product so much softer but also extends its shelf life.
This recipe of potato sandwich bread will surprise you with pillowy soft and moist at the same time crumb and a super thin crust. This bread is delicious, try this recipe and see for yourself!
Ingredients
Dough
340 g lukewarm water
40 g sugar
30 g dry milk powder
500 g bread flour
170 g boiled and mashed potato
12 g salt
25 g olive oil
15 g soft unsalted butter
Directions
Dough
Boil the potato in advance and let it cool down and mash it up before adding to the dough.
8 am In a bowl of stand mixer, dissolve dry instant yeast in the lukewarm water, add sugar, dry milk powder, all flour and all mashed potato.
Mix the dough on low speed of your mixing machine for 5 minutes, or KitchenAid on speed 3 for 7 minutes until well incorporated.
Add salt, continue mixing for 3-4 minutes until dough will come up together , then add soft butter and olive oil, increase the speed of mixer, knead for 10 more minutes until the dough comes up together wrapping up the hook or paddle attachment of your mixer, the sides of the bowl has to become clean, without any sticky dough.
Cover the dough and let it proof for 1-2 hours at 78-86F/ 28-30C until double or more in volume.
10 am Dump proofed dough on a floured work surface. Spread it with your hands creating rectangular, Fold long side to the middle. Roll the dough tight into a roll.
Transfer shaped dough into a loaf pan. I was using large Pullman pan (13×4 inch) , cover, and let proof for 1-2 hours at 78-86F/28-30C until double or more in volume.
12 pm Preheat the oven to 375F.
Sprinkle some flour on top of the loaf. Score the loaf.
Bake it for 10 min at 375F.
Lower the temperature to 350F, bake for 25-30 more minutes until golden brown.
Let the bread cool down.
Enjoy!
Summary
Recipe Name
Author Name
Published On
Preparation Time
Cook Time
Total Time
Average Rating
Based on 18 Review(s)