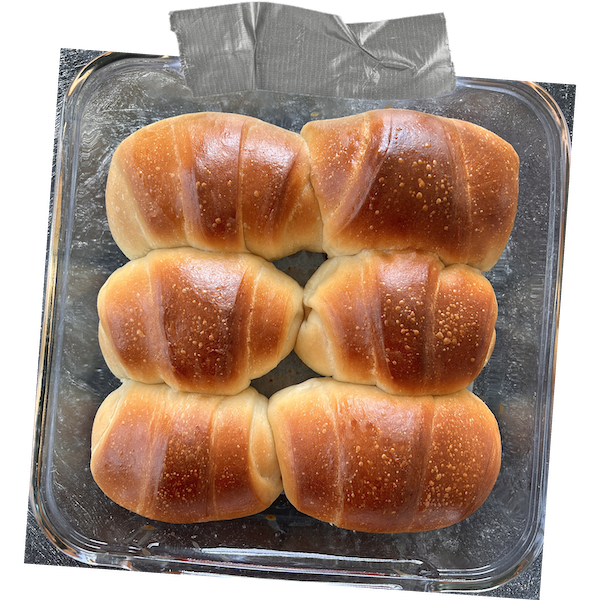 Soft, sweet, chewy… these sweet bread rolls have it all.
For the filling I used guava jam and cream cheese.
But these rolls can be filled with almost anything: chocolate, cheese, any type of jam, ham, potato and so much more… they will be delicious with any kind of filling.
Also these rolls can be made with sourdough starter or with yeast.
Below is the recipe with sourdough starter, but you can replace starter with 1% of dry yeast from total amount of flour. And proof the dough less time (2 hours after mixing was done and 1-2 hours after shaping).
Ingredients
Sourdough Starter
Dough
320g flour
150g lukewarm milk
60 g sourdough starter
1 large eggs
45g sugar
6g salt
45g soft unsalted butter
0.5 g dry instant yeast (optional, to reduce sourness)
Directions
Day 1
Starter
10 pm dissolve starter in the water, add flour, mix well, cover let sit at room temp 74-78F until it increases in volume in 2 or more times. Learn how to make sourdough starter from scratch here.
Day 2
Dough
8 am pour warm milk into a bowl of add sourdough starter, sugar, instant dry yeast, egg and flour
Mix dough on low speed of your mixing machine for 2-3 minutes, or KitchenAid on speed 3 for 3-4 minutes until well incorporated.
Add salt and butter, mix for a couple more minutes, increase the speed of mixer to medium high, mix for 10 more minutes until the dough is well incorporated and comes up together. You should be able to perform the windowpane test.
Cover the dough and let it proof for 3-4 hours at 76-80F/ 24-28C.
During that time perform 2 stretches and folds.
The dough should become slightly puffy.
12 pm transfer the dough to the fridge for cold fermentation for 6-9 hours.
10 pm Remove the dough from the fridge.
Roll the dough into a circle about 12 inches wide.
Cut circle into 8 pieces(looked as pizza slices)
Place filling in the middle of widest part of the slice.
Secure the filling inside the dough by folding sides to the middle and rolling, creating shape of croissant.
Transfer the shaped rolls into the baking pan.
Cover rolls and let them proof overnight for 8 -10 hours 70-74F /20-23C until they double in volume.
Day 3
7 am Preheat the oven to 375F.
Egg wash the rolls.
Bake for 10 minutes, then lower temperature to 350F, continue baking until golden brown( about 15-18 min)
Total baking time 25-28 min
Remove sweet rolls from the oven, let them cool down and enjoy.
Summary
Recipe Name
Author Name
Published On
Preparation Time
Cook Time
Total Time
Average Rating
Based on 7 Review(s)