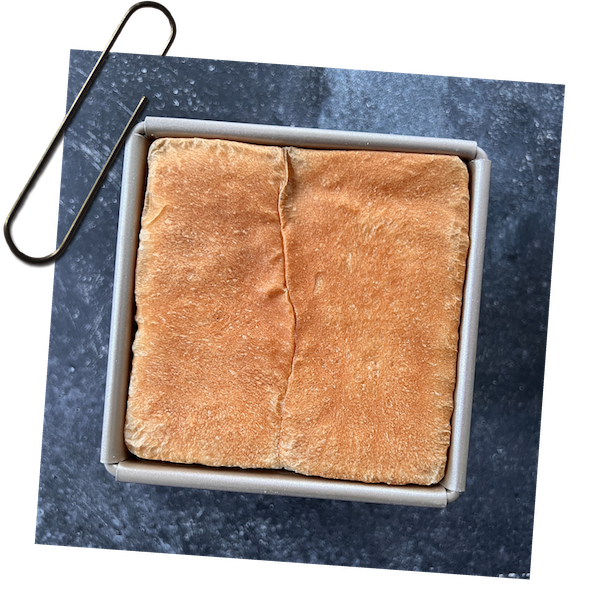 Today I want to share with you a quick version of the softest white sandwich bread made with small amount of yeast.
It is super light, soft and chewy at the same time. The secret is in using the Yudane method.
This recipe was adapted from talented @bakewithpaws
Ingredients for 8×4 loaf pan
Yudane
Dough
280 g bread flour (80%)
200g milk (57%)
2g instant dry yeast (0.6%)
35g sugar(10%)
7g salt (2%)
17g soft unsalted butter(5%)
Directions
Yudane
Yudane Method is made by mixing bread flour and hot boiling water. Adding hot boiling water gelatinises the starch. Which gives super softness to the bread.
8 am mix flour and hot boiling water, cover and let cool down before use in the dough .
Dough
8 am while yudane mixture is cooling off, let's mix the rest of ingredients for autolyse. In a bowl of stand mixer add milk, yeast sugar and the flour, mix all together let autolyse for 30 min.
During the autolyse period the flour becomes fully hydrated. This activates gluten development.
8.30 am add yudane to the dough, start mixing the dough on low speed of your mixing machine for 2-3 minutes, or KitchenAid on speed 3 for 5-6 minutes until well incorporated.
Add salt mix for a couple more minutes. The dough should wrap the paddle.
Add soft butter, increase the speed of mixer, mix for 10 more minutes until the dough is well incorporated and comes up together. You will be able to perform windowpane test.
Cover the dough and let it proof for 2 hours at 76-80F/ 24-28C.
During that time perform 1 stretch and folds.
The dough should become puffy.
10.00 am Sprinkle work surface with flour.
Divide the dough in 2 equal pieces roll each dough piece into a rectangle, fold long sides to the center to create long strip, then roll the strip into a tight roll. Place both rolls into a baking pan ( the amount of the dough should be enough for baking pan 8×4 inches).
Note: I used 2 square baking pans and put 270g of the dough in each.
Cover the loaf and let it proof for 1-2 hours at 76-80F/ 24-28C until the dough will reach 1/2 inch from the top of the pan.
12.00 pm Bake at 375F for 15 min, 350F for 10-13 min(if using square loaf pan),or 15 min if using 8 x 4 inch baking pan
Enjoy!